Farmers in Phung Hiep Commune, Hau Giang Province's Phung Hiep District, have rushed to sell premature sugarcane, as sugar prices have risen due to a supply shortage.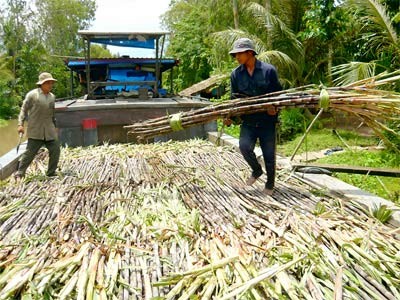 Merchants buying sugarcane in Phung Hiep District, Hau Giang Province (Photo: SGGP)
Merchants throughout the Mekong Delta have come to Phung Hiep to buy sugarcane to sell to Long My Phat Sugar Company.

Farmer Pham Van Nam, said, "Merchants are buying sugarcanes right at [my] farm at VND540 per kilogram. After deducting expenses, I get a profit of VND20 million per 100 tons of sugarcane. The profit is much more than last year, so I have sold sugarcane earlier."

Despite the sugarcane currently only being 6-7 CCS (commercial cane sugar), Mr. Nam and other farmers in Phung Hiep have been still selling their sugarcane and reasoned they are afraid of the coming floods and falling prices when the harvest season comes.

Nguyen Van Hoang, a Phung Hiep Commune official, said, "The commune doesn't have dykes so that farmers will face difficulties when the floods come. They harvest sugarcane early to grow rice."

Farmer Nguyen Ngoc To said, "We have just harvested 45 tons of sugarcane and are waiting for traders to buy. Though we know that the sugarcane has low CCS, we have to sell to avoid the floods."

Long My Phat Sugar Company has undertaken to buy all the commune's 327 hectares of sugarcane.

It is worried that selling premature sugarcane at Phung Hiep to avoid floods will ignite farmers in other Mekong Delta areas to sell their premature sugarcane.

Trinh Minh Chau, an official from Vietnam Sugarcane and Sugar Association, said at present, only Long My Phat refinery is in operation. Nine other refineries have said they will start operations mid-September.
Farmers have bargained away premature sugarcane because they worry that sugarcane prices will go down when entering the harvest season, he said.

Farmers will be at disadvantage if they sell premature sugarcane, he said, adding that he has just come back from an Asian sugar seminar in Thailand, at which sugar prices were ensured to be stable till the end of the year.

Duong Van Hung, head of Phung Hiep District's Agriculture Division, said, "Farmers have sold premature sugarcane because of high prices and traders have bought it without measuring the CCS indicator. Traders have sold it mainly to Long My Phat Company and some traditional refineries."

According to research by Can Tho Sugar Company, the CCS of sugarcane in Phung Hiep and Nga Bay areas in Hau Giang Province is low.

If the sugarcane is harvested in mid-September, the CCS will be 7-8. Farmers will lose about VND150 billion if they harvest it one month early.

The director of a sugar company in the province said, "In the case that floods come early, it's not difficult to sell all of the 4,000 hectares of sugarcane in Phung Hiep and Nga Bay. Three plants in the province alone can process 8,000 tons per day. Therefore, it will take less than 40 days to process all of the sugarcane."

Refineries in the Mekong Delta should start operations from mid-September to maximize effectiveness, he added.

G. Madhava Raju, director of NIVL Sugar Company in Long An Province, said if sugar plants in the Mekong Delta start operations one month later, the volume of sugar made in the region will increase by a further 25,000 tons.