Foreign direct investment (FDI) capital totaled US$3.4 billion in the first two months this year, a year on year increase of 21.5 percent, reported the Foreign Investment Agency under the Ministry of Planning and Investment.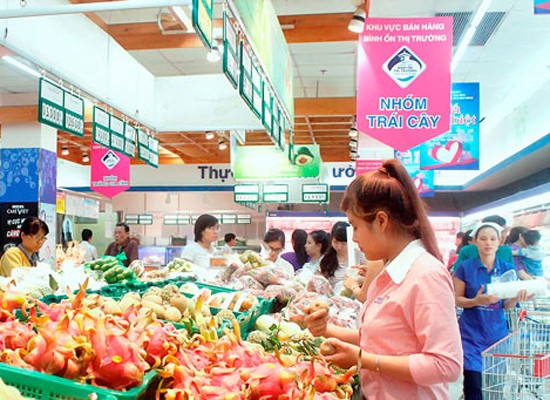 At the fruit counter in a supermarket, HCMC. Retail together with wholesale is the third largest field in FDI attraction in the first two months this year (Photo: SGGP)
Of the total, over $2 billion came from 300 newly established projects. It is estimated that FDI projects have disbursed $1.55 billion, a slight increase over the same period last year.
Some big projects licensed during the first two months comprise $284 million Vietnam Singapore Industrial Park in Binh Duong province, $220 million polyester and synthetic fiber plant Billion Vietnam in Tay Ninh province, $220 million tire plant KTV-1 in Binh Duong, a $150 million infrastructure project at Lan Son Industrial Park and $150 million plastic plant Khai Hong Viet in Bac Giang.
Processing and manufacturing drew as high as $2.5 billion accounting for 73.4 percent of total FDI capital. The second largest was real estate with $354 million, accounting for 10 percent and the third position went to wholesale and retail.
Binh Duong province attracted most FDI capital with the registered funds of $791 million accounting for 23 percent of total, followed by Hanoi with $519 million accounting for 15 percent and HCMC with $464 million making up 13 percent.