Foreign investors have poured US$345.5 million into Vietnam's real estate field as of February 20 this year, accounting for 10.1 percent of total FDI capital and increasing twelvefold over the same period last year when it hit $29.07 million, reported the Foreign Investment Agency under the Ministry of Planning and Investment.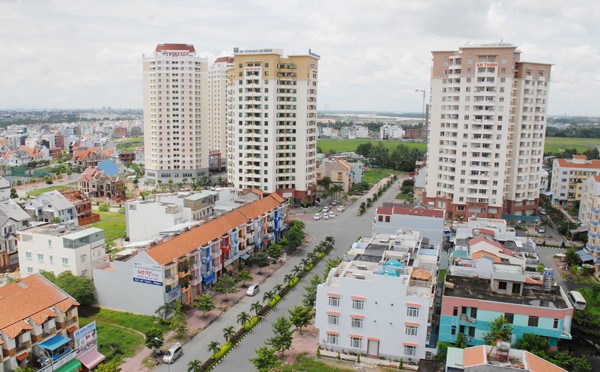 HCMC real estate market forecast to continue receiving huge capital from FDI sector this year (Illustrative Photo: SGGP)
During the period, 11 new projects were licensed with the registered capital of $309 million, two projects increased investment and 14 projects received capital contribution via share purchase with the value nearing $59 million. 
The real estate sector has lured a total of $52.4 billion FDI capital accounting for 17.6 percent of the country's total by the end of February. Notably, HCMC is considered as a hot market with positive signs in popular and middle segments providing apartments for sales and office buildings. 
Mr. Stephen Wyatt, director general of Jones Lang Lasalle Vietnam, forecast 2017 will see a record high in trading and merger activities in the real estate market of Vietnam. 
In related news, the Housing and Real Estate Market Management Agency under the Ministry of Construction reported that property inventory value approximates VND29,573 billion ($1.3 billion) nationwide now. 
The inventory mainly concentrates in Hanoi and HCMC in the segment of housing land projects far from the center of the cities and with incomplete infrastructures. 
Compared to December last year, the inventory level reduced by VND1,450 billion equivalent to 4.67 percent. Hanoi decreased to VND5,538 billion. HCMC saw a reduction of VND283 billion to VND5,518, a strong fall compared to the ministry's reported number last April of VND7,730 billion which was the country's highest level. 
After four years of inventory peak in the first quarter 2013, the real estate market has resolved over three forth of properties in stock.