Foreign direct investment (FDI) capital to Vietnam is expected to reach US$7.71 billion in the first quarter this year, double the number in the first two months and up 91.5 percent over the same period last year, reported the Foreign Investment Agency under the Ministry of Planning and Investment.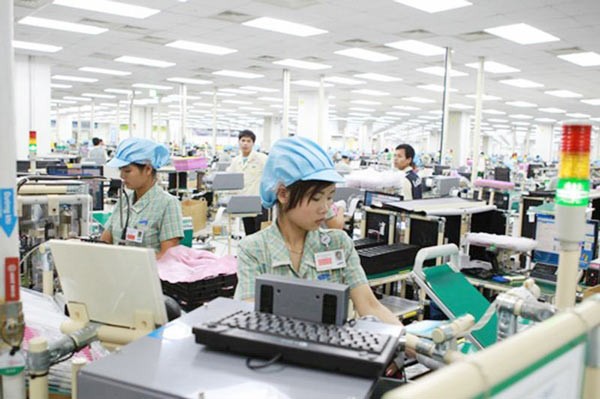 Samsung continues expanding investment in Vietnam (Photo: SGGP)
Vietnam attracted $3.4 billion FDI in the first two months.

As of March 20, the country has licensed 493 new projects with the registered capital of $2.9 billion, up 6.5 percent compared to the same period last year.

In addition, 223 projects added capital with the total funds of $3.94 billion, a year on year increase of 206.4 percent. There were 1,077 deals of capital contribution and share purchase by foreign investors with the total value of $852.86 million, up 171.5 percent over the same period in 2016.

The high increase in March has been contributed by many large scale projects granted with investment certification. Of them is Samsung Display expansion in the northern province of Bac Ninh with the additional capital of $2.5 billion.
In addition, Taiwanese investor registered to increase investment funds at Polytex Far Eastern Company by $485.8 million and Coca-Cola Vietnam supplemented $319.8 million in Hanoi.

Newly licensed projects include $284.75 million Vietnam Singapore III Industrial Park in Binh Duong, $269.54 million Tole Panel Plant in Binh Phuoc and $220 million KVT-1 tire fiber project of Kolon Industries Inc.

The project of Samsung Display has made Bac Ninh the largest FDI attraction province this year with the total capital of $2.61 billion, accounting for 33.86 percent of FDI capital to Vietnam.

Binh Duong is ranked second with the registered capital of $1.39 million, making up 18.04 percent and HCMC ranked third with $600 million accounting for 7.78 percent.

As of March 20, FDI projects have disbursed $3.62 billion, up 3.4 percent over 2016.