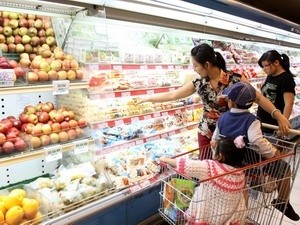 File photo shows shoppers at a supermarket in Vietnam (Photo: Vietnam News Agency)
Disbursement of foreign direct investment in the first nine months of this year surged by 1.9 per cent, hitting US$8.2 billion, the General Statistics Office (GSO) has announced.
Despite the disbursement increase, the first nine months still saw a slump in both new registered investment capital and the number of new projects. During the period, about 675 new foreign-invested projects, worth about $8.24 billion, were granted licences, down by 31.5 per cent in terms of capital and 30 per cent in quantity compared to the same period last year.
Meanwhile, 178 operating projects received approval to raise their level of capital by a combined $1.67 billion.
The new additions have brought the total foreign direct investment (FDI) registered in the first nine months of the year to more than $9.9 billion, representing a year-on-year decrease of 28 per cent, the GSO said.
During the period, Hong Kong remained Viet Nam's largest source of foreign investment with $2.8 billion, making up 34 per cent of the country's new registered capital.
The processing and manufacturing sector attracted the lion's share of FDI, gobbling up $4.91 billion. Electricity, gas and water production and the distribution sector contributed $2.52 billion while the construction industry made up $689 million.
Drawing $2.48 billion, or 30 per cent of the nation's total FDI, the northern province of Hai Duong proved to be the country's ideal destination for foreign investors. HCM City followed with $1.68 billion, southern Ba Ria-Vung Tau Province with $548 million and the capital city with $451 million.