Vietnam's foreign direct investment (FDI) plummeted during the first four months of the year with only USD4 billion earmarked by investors from abroad, down 47.8 percent against the same period last year, according to the Foreign Investment Agency.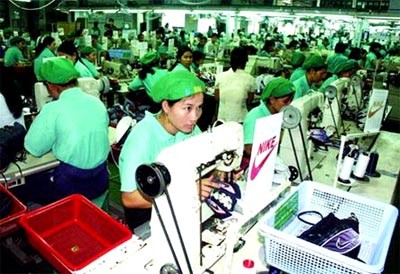 Samyang Vietnam Co., Ltd., 100% capital owned by South Korea, produces footwear for export in Ho Chi Minh City's Cu Chi District (Photo: TT)
Up to 262 new foreign-invested projects, capitalized at USD3.2 billion , were licensed from January to April, an annual decrease of 54.9 percent.
FDI disbursement, an important factor to evaluate the efficiency of investment inflows, however, still increased nearly 1 percent, reaching USD3.62 billion  during the period.
In another bright spot, 88 existing projects registered an increase in their levels of capital by a total of USD819 million  during the four months, up 36.8 percent year-on-year.
Vietnam 's leading sources of foreign investment include Singapore , Hong Kong , Malaysia , the Republic of Korea and Japan , with Japanese companies still registering 55 new projects in Vietnam despite the devastating impact of the earthquake and tsunami on March 11.
During the period, the processing and manufacturing sector remained the leader in attracting FDI, accounting for USD2 billion  of the first quarter total. In addition, 75 operating projects in the sector were allowed to raise capital by a total of USD455.3 million.
With more than USD1.1 billion  coming to 58 new and seven expanded projects, HCM City continued to be the most attractive destination in the eyes of foreign investors. It was followed by Hanoi with 79 projects, worth a combined USD430 million .
The foreign-invested sector saw an estimated four-month export turnover of USD15.19 billion , up 37 percent year-on-year. The sector also posted an export surplus of USD1.3 billion .
Earlier, the agency forecast new registered FDI would likely reach about USD20 billion  this year and over half of that sum would be implemented. Top priority would be given to projects in infrastructure construction, hi-tech and support industries.