As of December 21, Vietnam had 12,200 valid foreign direct investment (FDI) projects with a total registered capital of US$192.9 billion.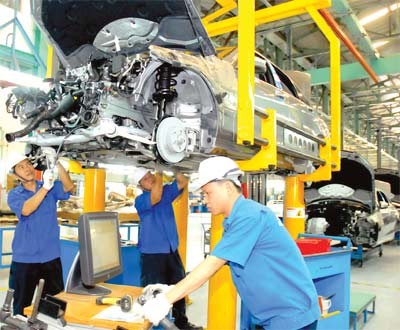 Workers assemble cars at a foreign-invested factory in Vietnam (Photo: SGGP)
Among 92 countries and territories investing in Vietnam, Taiwan (China) emerged as the largest investor with a total registered capital of US$22.8 billion.
 
The Republic of Korea was second with US$22.1 billion, followed by Singapore, Japan, and Malaysia with US$21.7 billion, US$20.8 billion and US$18.3 billion respectively.
FDI projects have been present in all 63 provinces and cities in Vietnam.
 
Ho Chi Minh City has attracted the largest investment with US$29.9 billion in 3,500 valid FDI projects, more than the southern coastal province of Ba Ria-Vung Tau, with US$26.3 billion in 255 valid projects.
 
During the 2006-2010 period, the country attracted 7,804 FDI projects with a total pledged capital of US$146,781 billion, of which US$44,634 billion was disbursed.
 
Projects licensed in this period were 1,700 more than the previous five years.
 
According to the Planning and Investment Ministry, FDI enterprises made a remarkable contribution to the country's socioeconomic development during the period.
 
In 2010 alone, foreign investors registered capital of nearly US$18.6 billion.
Processing and manufacturing industry drew the largest amount of FDI capital with 385 new projects worth more than US$4 billion, and some US$1 billion injected into 199 operational projects.
This sector accounted for more than 27 percent of total investment capital last year.
FDI enterprises paid US$3.1 billion in taxes in 2010, an increase of 26 percent over 2009.
Excluding crude oil, the foreign-invested sector's exports amounted to US$33.9 billion, which represented 46 percent of the nation's total and was an increase of 40.1 percent over the same period last year.
The foreign-invested sector's imports grew 39.9 percent to over US$36.5 billion, accounting for 42.8 percent of the nation's total.
Among 51 countries and territories investing in Vietnam in 2010, Singapore was the largest foreign investor with US$4.35 billion, accounting for 25.2 percent of the total increased and newly pledged capital.
 
Netherlands ranked second with US$2.364 billion, accounting for 13.7 percent, followed by Japan with US$2.04 billion, and then the Republic of Korea, the US and Taiwan.  
 
Topping the list with a record investment capital of US$4 billion in 2010 was a Singapore-based company's South Hoi An resort project in Quang Nam Province, followed by Mong Duong 2 thermo power plant worth US$2.1 billion in Quang Ninh Province, and Kobelco Vietnam Iron Nugget Company's project worth  US$1 billion in Nghe An Province.