Approximately US$13.3 billion of foreign direct investment (FDI) was registered in Vietnam since the beginning of this year, down 40 percent over the same period last year, the Ministry of Planning and Investment has reported.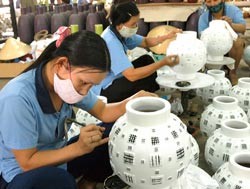 Workers of Australian-inested Natural Environment Vietnam Co., Ltd. in Hochiminh City produce potteries for export (Photo: SGGP)
With this figure, the Government's 2010 target of US$22-25 billion in fresh FDI is not likely within reach.
In November alone, 74 projects worth US$512 million were licensed, and there was no additional foreign investment from operational projects.
As many as US$950 million of FDI were disbursed in November, bringing the total amount so far this year to US$9.95 billion, a year-on-year rise of 9.9 percent.
Among 53 countries investing in Vietnam this year, the Netherlands emerged as the largest investor with a total registered capital of US$2.32 billion.
The Republic of Korea stood second with US$2.28 billion, followed by the US with US$1.92 billion.

The southern coastal province of Ba Ria – Vung Tau has attracted the largest amount of investment to date this year, with US$2.47 billion, more than the northern province of Quang Ninh, and Ho Chi Minh City, with US$2.2 billion and 1.83 billion respectively.