Foreign direct investment in the real estate sector has soared in Vietnam in the last three years, but economists are skeptical about the benefits they bring the country and warn about downsides like pollution.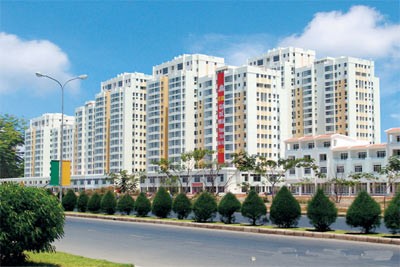 Sky Garden 1 apartments at Phu My Hung urban area in Ho Chi Minh City's District 7. Foreign investment is flowing steadily into the property sector and opinion on its benefits is divided among Vietnamese commentators.
According to the Planning and Investment Ministry, the total FDI coming into the sector in just 2006-08 was more than four times the entire investment in the two decades prior to 2006.
 
Some giant projects have received a slew of incentives and been allotted prime land though they do not add value or bring in technologies.
 
Some have even stalled for long periods.
 
In the first nine months, FDI worth US$12.54 billion flowed into the sector, with $7.2 billion already being disbursed.
 
But there is a catch. A study by the ministry and the Central Institute for Economic Management found that the 33 foreign apartment and urban-area projects in progress last year were estimated to cost $10 billion but had a total registered capital of just $2.2 billion.
 
In other words, foreign investors brought in only 20 percent and mobilized the rest in the country.
 
Major housing projects like The Vista and Phu My Hung in Ho Chi Minh City, and Golden Westlake and Ciputra in Hanoi cost billions of dollars in all to develop but a major part of it is was raised in the country. 
 
Many foreign-invested projects remain suspended, with as much as 60 percent of the land allocated to them yet to be used.
 
For instance, the $500 million Lotus Hotel in Hanoi and 65-floor Hanoi City Complex have been suspended due to a shortage of funds.
 
Construction of a tourism zone on 220 hectares along Vung Tau beach started 20 years ago but only a small part of it has been completed so far.
 
It is undeniable that FDI projects have made a great contribution to improving the country's infrastructure and modernizing urban areas. But many have also contributed to destroying coastal areas and squandered prime space.
 
Another issue of concern is the liberal licensing of FDI projects by local authorities.
 
A ministry report to the Prime Minister on FDI in 2006-2008 said several cities and provinces issued many licenses for the same kinds of products without carefully considering the market's capacity.
 
Glaring examples are steel plants, golf courses, and seaports.
 
It may be appropriate in theory to give local authorities the power to license FDI projects because only they understand the true potential of their province or city.
 
But in the absence of an overall Government blueprint for the realty sector, it is premature.
 
An issue that has exercised the public is poor management of FDI projects in terms of their environmental and social impacts.
Dr. Nguyen Minh Phong of the Hanoi Institute for Socio-Economic Research, said: "If we don't consider carefully, the country's most beautiful beaches and the interest of future generations will be in foreign companies' hands. And whether or not we want it, we will become guests right in our country."
 
Dr. Nguyen Mai, former deputy head of the State Committee for Cooperation and Investment, said: "Vietnam is integrating and if it wants to develop and attract foreign tourists and major global companies, it needs to have appropriate infrastructure."

"Therefore, it should not limit FDI in the realty sector, but it needs to have a proper tax policy. Otherwise, the country will suffer losses while foreign investors will enjoy windfall profits."