Foreign direct investment has soared six times to US$58.3 billion this year, according to the Ministry of Planning and Investment.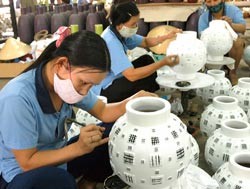 Natural Environment Viet Nam Co., Ltd., 100% capital owned by Australia, produces potteries for export in HCMC
In October the amount committed was US $2 billion in 68 new projects and another US $169 million in existing FDI projects.
Deputy Minister of Planning and Investment Nguyen Chi Dung said FDI for the whole year is likely to be US $62-65 billion.
Money actually brought in this year is US $9.1 billion, a 38 per cent year-on-year increase. The average investment per project is US $61.6 million.
Ninh Thuan Province led the 43 destinations in the country that have attracted FDI this year. Just one Malaysian steel project accounted for US $9.79 billion or 16.8 percent of the total registered investment.
Ba Ria-Vung Tau Province ranked second with US $9.3 billion while HCM City was third with US $8 billion.
Of the 900 plus projects this year, 512, involving US $32.5 billion, are in industry and construction.
The service sector accounts for around 400 projects and US $25.5 billion, with the rest in agriculture-forestry-fisheries.
Mr. Dung said the current global financial crisis would affect the volume of foreign investment in future.
The uptrend in FDI has been accompanied by continued problems with prolonged labor strikes, pollution, and squander of land and energy because of lack of checks and balances in licensing projects and incompetence of local authorities.
Mr. Dung said the Government is also concerned that some foreign investors overstate their investment amount so that their license is processed faster.
Experts have urged the government to improve the capacity to absorb capital by focusing on large projects licensed in the last two years.