Import procedures on feed materials in Vietnam were time consuming and complicated, complained businesses at a meeting hosted by the Department Plant Protection in Hanoi on Tuesday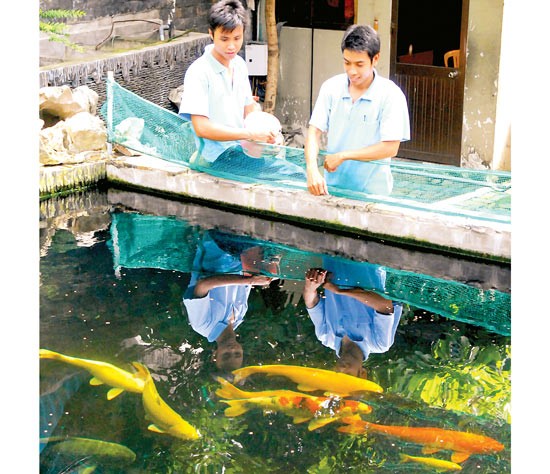 Breeding Japanese ornamental fish at Hai Thanh Company (Photo: SGGP)
The meeting was organized under an instruction by Minister of Agriculture and Rural Development Cao Duc Phat to solve irrational regulations on feed material imports as per reports by some businesses before.
At a meeting with Minister Phat a week ago, some told him that the quarantine body at Hai Phong Port pleaded lack of human resource and did not do import procedures for their feed materials.
Businesses at the yesterday meeting said that their goods were congested at ports too long because of intricate procedures. Relevant agencies have been irresponsible causing badly damages for them in both finance and material quality.
Deputy Director of Vietnam Nutrition Joint Stock Company Tran Thu Thuy said that the problem started early this year when the Department of Livestock Production attended in customs clearance besides the Department of Plant Protection and customs agencies and further complicated procedures. 
"We filed documents on Monday, the department's officials made an appointment to return on Thursday but we could not get them on that day and the following day," said Ms. Thuy.
The officials answered that their leaders had not signed the documents, she said.
She complained that the delay has rocketed storage fee at ports. It took only 2-3 days for the company to import materials from Thailand but up to 4-5 days to do customs clearance. Those from other provinces had to wait another 5-6 days to receive their documents via express delivery service.
Deputy Chairman of the Plant Protection Department Hoang Trung said that they had striven to reduce import procedures from eight to only three kinds of papers and exports from six to one paper.
He refused that Hai Phong Port lacked human resources for quarantine procedures, saying the quarantine industry have up to 600 officials. He encouraged businesses to call the department's leaders whenever they meet similar cases.
Last year Vietnam imported 11 million ton materials for local feed production equivalent to US$4.8 billion. Of these, over 10 million tons were passed by the Department of Plant Protection and the Department of Livestock Production under the Ministry of Agriculture and Rural Development, reported chairman of Vietnam Feed Association Le Ba Lich.