Prime Minister Nguyen Tan Dung has decided to ban fertilizer export through the end of the year to ensure enough supply for local demand, except NPK, organic and phosphate fertilizers.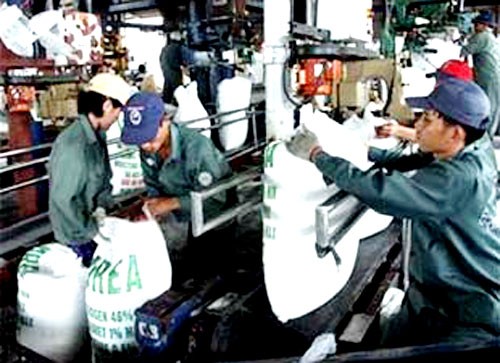 Produce fertilizer at a company.
The Ministry of Industry and Trade will coordinate with the Ministry of Agriculture and Rural Development to keep a close watch on the domestic and foreign fertilizer markets as well as direct firms to import enough fertilizer for the next winter-spring crop.
The ministries will also ask fertilizer producers to speed up production to ensure fertilizer supply to the coming crop.
The PM also asked the Ministry of Agriculture and Rural Development to coordinate to cities and provinces people's committees to guide farmers use fertilizer varieties properly.
The southern provinces will enter the winter-spring rice crop by mid-month, but the supply of fertilizer depends on imports, especially urea fertilizer.
Nguyen Dinh Hac Thuy, deputy chairman of the Vietnam Fertilizer Association said that the demand for urea, for instance, will be 500,000 tons for the upcoming winter-spring rice crop. However, local producers will be able to meet 60 percent of the demand.
Vietnam's fertilizer production capacity is expected to exceed demand by 2015 as many more fertilizer plants will began production by then, according to the Ministry of Agriculture and Rural Development.
Vietnam imported US$796 million worth of fertilizer in the ten months ending October, down 30.6 percent from the same period last year.