Speeding up equitization in state-run enterprises and cooling inflation are the Ministry of Finance's two top priorities in the upcoming time, says Minister Vuong Dinh Hue.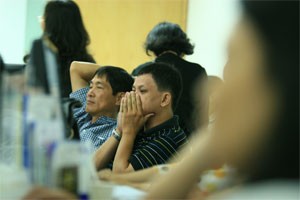 An investor nervously watches share prices updated on a computer screen at an HCMC-based brokerage (File photo: Minh Tri)
"The ministry will continue to manage the budget expense efficiently for the rest of the year," Mr. Hue says in an interview with Dau Tu Tai Chinh (Financial Investment) Newspaper.
"The ministry will also carry out measures on fostering export, narrowing trade deficit and improving the balance of international payment."
He also notices that state-run enterprises' equitization is being conducted at a very slow pace.
"The number of equitized enterprises in the period between 2007 and 2010 made out only 25 percent of the schedule, which had been approved by the Prime Minister," he said.
"An unexpected economic meltdown worldwide hit the stock market hard, putting heavy pressure on the equitization."
He says that his ministry has coped with many difficulties when carrying out equitization.
Most of state-run enterprises under the government's equitization plan are medium- and large-size, which still have many financial issues that need to be sorted out.
To speed up the plan, the government has released a decree providing many new regulations in order to solve problems that are hindering the equitization, according to the minister.
The decree amends regulations on sales of stake for strategic partners before the auction, as well as limiting the number of strategic partners to three or less.
They also have to hold stake in five years at least, according to the decree.
"New regulations combined with close cooperation between relevant agencies and enterprises will speed up the equitization progress," Mr. Hue says.
The minister also notices that the many regulations on supervising businesses in key sectors including electricity and gasoline, which result in big impacts on the CPI (consumer price index).
Yet, some of them became inappropriate when the economy got sour.
"For example, the Ministry of Finance and the Ministry of Industry and Trade have used many financial measures, such as imported taxes and state-subsidized fund to cool off the increasing gasoline price," he says.
"However, the move left the domestic price failing to keep up with the international one. Therefore, we should set the petrol price for the state-run market economy."