Inspections done by the Ho Chi Minh City Taxation Department have confirmed the accuracy of Sai Gon Giai Phong's reports about serious tax evasion by commercial establishments by not issuing invoices, the Ministry of Finance said.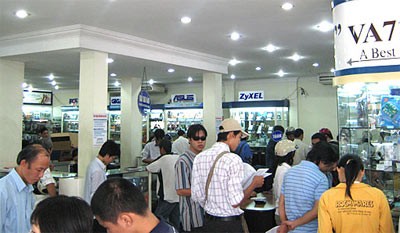 Phong Vu Computer shop in District 1, HCMC is one of many shops in the city sell products without adding value-added tax or issuing VAT invoices
The Prime Minister had ordered for the inspections following the Sai Gon Giai Phong reports and the ministry instructed the city Department of Tax and People's Committee to investigate.

In a report the ministry said 36 teams established by district authorities checked 131 shops and firms in HCM City and collected tax arrears of VND2 billion while tax agencies collected a further VND5.4 billion that people had tried to evade paying.

The latter checked 24 shops and found all of them had reported only half their actual income.

For instance, one of them had reported an income of VND22 billion but its books showed it to be VND43 billion.

The ministry reported to the PM that it would carry out the inspection nationwide.

Suggesting that payments should not be made in cash, it asked the Ministry of Industry and Trade to improve the monitoring system to prevent enterprises from evading tax by taking advantage of promotions.
Related articles:
Tax inspectors check VAT payments
City leader tells tax agency to check evasion
HCMC companies evade tax with impunity