The Ministry of Finance said on Thursday that the deadline for payment of value added tax (VAT) for months of April, May and June for more than 190,000 businesses has been extended.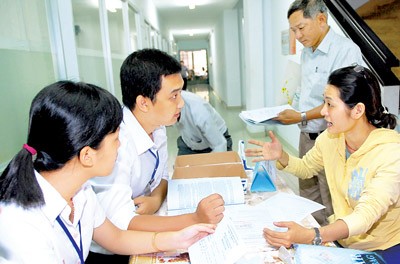 Staff of the HCMC Taxation Department (L) answers queries of business people (Photo: SGGP)
More than 190,000 businesses have still to clear about VND11 trillion (US$527 million) of value added tax for which the payment deadline date has been extended.
The ministry has also extended deadline for payment of income tax expected from almost 71,630 businesses to the tune of VND2,933 billion.
Besides, a reduction of 50 percent on land rent, about VND250 billion, is now applicable for 2,425 businesses.
Excise tax will also be exempt this year, or refunded, for 33,510 fishermen and salt workers, calculated at VND10 billion.
In September, the State budget grew by VND498,490 billion, about 67 percent of the expected amount and up only 1.3 percent compared to the same period in 2011.