The Viet Nam Chamber of Commerce and Industry (VCCI) will collaborate with relevant agencies to boost the participation of businesses in the agriculture sector.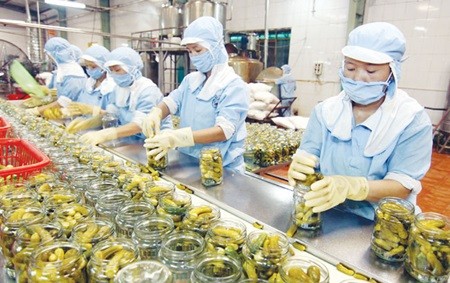 Workers at a GOC Export Food Processing JSC pickle production line in the northern province of Bac Giang. Businesses were encouraged to participate more in the agricultural sector to help develop a large-scale, hi-tech farming industry. — VNA/VNS Photo Vu Sinh
VCCI Chairman Vu Tien Loc made the announcement at a conference in Ha Noi yesterday, after the chamber released an annual report on Vietnamese enterprises, with a focus on their agricultural operations.
National Assembly Economic Committee Vice Chairman Mai Xuan Hung said the Government had adopted a strategy for developing a large-scale and hi-tech agriculture industry, in line with general efforts to restructure the economy and innovate development models.
Simulated activities are enhancing the quality and added value of products, boosting exports, besides connecting agricultural production with the processing, maintenance and distribution industries. Fostering competitiveness and establishing links with global value chains will also be encouraged.
"Enterprises will play a vital part in order to achieve these goals, but the linkages between businesses and farmers are weak and unstained," Hung said.
It was revealed at the seminar that while 70 per cent of the country's population was made up of farmers and agriculture contributed to about 20 per cent to the national gross domestic product (GDP), only 1 per cent of the local businesses were operating in the area.
The Deputy Minister of Agriculture and Rural Development, Ha Cong Tuan, said agricultural production was mainly associated with business households, which mostly traded in raw products. This had limited the chances for enhancing product values.
Investments in agriculture had seen little improvement, he said, adding that social investments in the area totalled around VND61 trillion (US$2.9 billion) last year, with some 43 per cent of the finance coming from the State budget.
Experts from the VCCI's Enterprises Development Foundation, Luong Minh Huan and Pham Thi Thu Hang, mentioned a drawback related to costs and markets, as well as the lack of capital and investment incentives, as hindrances in the participation of businesses in the area.
However, Loc said there had been some positive signs.
"Many major enterprises in Viet Nam, which are involved in property, banking and financial investments, have recently shifted to agricultural developments. This is proof that the area promises significant potential and high profitability in the long run," he said.
"Heading hi-tech agriculture will be the right direction for Viet Nam, in a context that the majority of our population has rural inhabitants. Any breakthrough will come only if enterprises together start a movement to lead proper methods for tighter connections with farmers and households," he added.
The Asian Development Bank's (ADB's) Country Director in Viet Nam, Tomoyuki Kimura, said business associations were important for driving the business performance of small and medium-sized enterprises (SMEs).
He said the private sector had been driving the economic development of Viet Nam in general and the Cuu Long (Mekong) Delta in particular. The delta is the country's main agricultural region, owing to its fertile soil and abundant water sources.
"In a matter of a decade or two, Viet Nam came from nowhere to rank among the largest agriculture exporters in the world. A net food importer as recently as the 1980s, the country is now one of the largest rice exporters and an increasingly important supplier of aquaculture products. The Mekong Delta has been the engine for this growth," he said.
Kimura noted, however, that export growth had mainly been achieved by ramping up volume rather than improving quality, and that the environmental impact of rapid growth was not often reflected in export prices of various farm produce in the delta.
Earlier this year, Prime Minister Nguyen Tan Dung had endorsed the selection of agricultural food processing as a field for developing industry clusters and value-chain products.
Kimura said the Government would need to effectively monitor the exploitation of natural resources, emphasizing the importance of policy development through strong public-private dialogue.
He said ADB was committed to helping improve the effectiveness of such dialogue, and that "the Mekong Delta is a keystone of the ADB's Greater Mekong sub-region programme."
He specified that the development bank was launching an innovative initiative focused on expanding the SME sector, in partnership with the Australian government.
The "MekongBiz" initiative is a three-year, $10.5 million package that will support the public-private leadership in speeding up business regulatory reforms and providing greater access to finance SMEs. It would also facilitate regional supply, and help market and financing synergies in the Mekong region.
According to Loc, Viet Nam has about 4.6 million business households and 500,000 enterprises. Only 2 per cent of the companies are large, while 96 per cent are small and 2 per cent are medium.