The husbandry section needs better attention for full development to better serve local demands and the country's economy, businesses said at a conference in Ho Chi Minh City last week.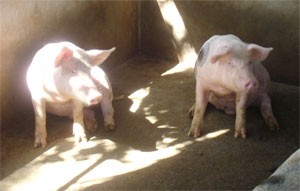 Husbandry firms and agricultural officials at a conference last week call for better policies to develop the sector (Photo: Phan Hien)
Figures from the Ministry of Agriculture and Rural Development which organized the conference, the export turnover of agricultural products for the past seven months has reached nearly US$14 billion, up 33.4 percent year on year.
But the husbandry sector has been doing badly as it worsened the agriculture trade deficit, the ministry said.
Deputy Minister Diep Kinh Tan said that the country has spent $2.2-2.7 billion every year to import animal feed.
According to the ministry officials, several Vietnamese firms have been exporting pork to China and Malaysia, which shows that the section has high potentials for development.
The officials said that Vietnam needs better policies to develop areas for local production of animal feed, especially soya, corn and manioc roots.
They said corn and manioc cultivation around the country has not supplied enough to local demands but the products have been exported every year.
There's time more than $1 billion of manioc roots were exported a year, mainly to China for no tariffs, but domestic factories later had to pay 5 percent of tariffs when buying the roots from overseas, which raised the animal feed prices, they said.
Over the past seven years, the prices of material imports for animal feed has jumped 12-14 percent, pushing the animal feed prices 20 percent further.
Pham Duc Binh, general director of Thanh Binh JSC in Dong Nai Province neighboring HCMC, said at the conference that the government has not valued husbandry as much as farming.
Nguyen Thi Le Hong, general director of Dong Nai Food Technology Corporation, expressed her agreement.
Hong said that her company has received 1,000 hectares from the province government for breeding projects but the implementation of the projects has faced a lot of red tape.
The allocated area was also subject to different relocation policies, which made it hard to lure long-term investors, she said.
Tran Tan An, deputy general director of VISSAN Food Processing Company, said that husbandry farms face high risks of location as local governments would prefer to give the land to any other industrial project of foreign investor.
Chung Kim, director of a pig farm firm in Binh Duong Province neighboring HCMC, called for a clear breeding area planning for the long term or there won't be enough husbandry products for the society.
Kim said further that a well-developed husbandry sector would be a strong supply for many industries.