Purchasing power usually increases towards year-end, with most firms scrambling to stockpile goods for coming Tet Lunar New Year holidays, but this year the mood remains dull mainly because of the current economic slump.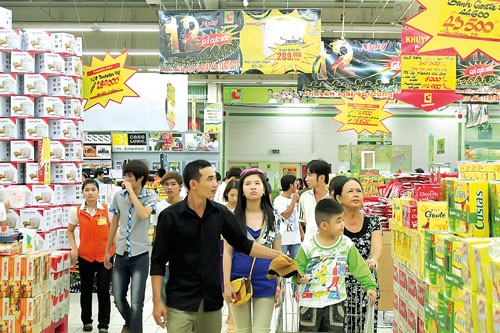 Customers go shopping at BigC supermarket. (Photo: SGGP)
According to a survey by the Ministry of Industry and Trade, the domestic market has shown signs of recovery, as inventories have reduced by 14 percent compared to four months backs. In October, inventory index fell to just above 20 percent while inventory of industrial processing industries was at 35 percent-in the past six months. However, many experts predict that there are still many ordeals ahead.
In the past few years, at this time, firms usually increased manufacturing to meet production demands. But this year, although October has passed, firms are producing perfunctorily and manufacturing growth has been low, with firms still facing many obstacles in production, especially in consumption and finance.
Nguyen Thu Phuong, CEO of Nam Duong Investment Corporation, said that the market has never been in such a volatile situation before. As a distributor, Nam Duong had stockpiled a large amount of goods since the beginning of this year, but distribution has been very slow with dealers hardly placing any orders or buying goods in smaller volumes because of weak purchasing power. High inventory has caused the company's capital to become stagnant.
Nguyen Tien Vi, head of the Planning Department under the Ministry of Industry and Trade, said that inventory that dropped in October was not because of purchasing power getting stronger but because some industries had adjusted their operations, indicating that firms are becoming more cautious.
Ahead of the economic slump, firms became more careful in preparing goods for Tet Lunar New Year holidays. Though, many firms said that their production plans for year-end and Tet have not changed in the past few months.
Truong Chi Thien, director of Vinh Thanh Dat Company, said that in the last few years, his company had to increase production to meet market demand, but this year, it will not increase output. Currently, most companies are afraid that they cannot even clear their present stocks.
The survey showed that Huynh Gia Huynh De Company, Bidrico Beverage Company and Saigon Food Company also set same production targets as previous years, but Viet Huong Food Company, which produces sausages and fermented pork rolls, said that it will only produce at customers' requests. Although sweetmeat producer Bibica had already prepared all materials for manufacturing, it will not mass produce, partially to adjust its production plan that depends on purchasing power.
According to firms, although sales during Tet increase higher than normal, the current economic crisis won't allow consumers to spend as much as before. Thus, firms might suffer losses if they raise their stockpile. Some food producers even considered reducing their goods for Tet by 20 percent, compared to last year.
Market reaction in the past months has shown that promotional programs that offer a discount of 5-10 percent were not able to boost consumption as consumers are cutting down on spending, said Le Thi Thanh Lam, deputy CEO of Saigon Food Company. As food products must sell before expiry date, some firms offered a discount of upto 50 percent. However, when every business adopted this trick, the market became saturated and consumers only bought necessary products--thus, the higher the discount, the bigger the loss.
Currently, weak purchasing power has created a non-stop discount competition among producers because if they do not continuously run promotional campaigns their revenues will possibly fall by upto 40 percent.
However, Nguyen Chi Hung, sales manager of Chi Thanh Plastic Company, said that discounting is merely a band-aid measure to clear inventory and to keep market share as despite weak purchasing power, the price of materials has climbed continually. Therefore, firms are only able to run promotional campaigns for a short time or their finances will become exhausted.
Huynh Van Minh, chairman of Ho Chi Minh City Union of Business Association, said that although inventory of city-based companies dropped by 10-15 percent compared to previous months, it still accounted for 50 percent of the company's capital. Moreover, credit sources are running low so firms do not have money to invest in husbandry, cultivation, and manufacturing. So some companies have not had material for production though they even received orders for exports.
In the recent past, at this time of the year, firms were rushing to prepare goods for Tet holidays. This year though, sweetmeat producers have not even started manufacturing. In this situation, the amount of sweetmeats in the market will lower by 15 percent compared to last year, with prices likely to increase marginally.