The task of selling their products through modern distribution channels, especially foreign supermarkets like Metro, Big C, and Lotte, is always a difficult quest for local firms, with many having given up trying.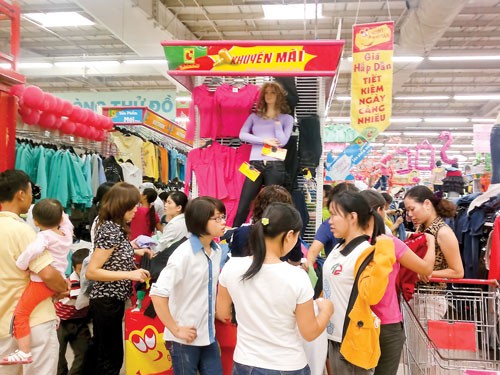 Channeling products through modern distribution channel is always a challenge for local companies. (Photo: SGGP)
"In 2002, when Metro officially joined the distribution network in Vietnam, they asked my company to become one of their suppliers. However, we had to reject their request because they asked for a discount of 25 percent", says Nguyen Dang Hien, CEO of Tan Quang Minh Company (Bidrico), referring to the unsuccessful partnership between his company and Metro.
"At that time, our distributors only received a discount of 5 percent so if we accepted Metro's request we would destroy the existing distribution network that we built, as Metro would possibly sell to dealers at a discount of 15 percent and keep 10 percent for themselves. If this happened, no one would ever want to buy from our company", he added.
Up to now Bidrico's products are present at all local and foreign-owned supermarkets, except Metro. After ten years, Mr. Hien and his partners decided to try to bring their products into Metro supermarkets again, however, after negotiating with the latter, they decided against it.
Other companies also gave up after negotiations with Metro because Metro not only asks for high discounts and has strict requirements on payments and display shelves, but also sets many irrational regulations.
A representative of a company said in fury that it seems Metro only thinks of its own benefits and forgets that benefits should be shared. The fact that some businesses gave up on initial negotiations seems to be a wise move. Many companies withdrew after entering Metro supermarket because they failed to meet requirements on advertising, display shelves, etc.
In reality, every firm understands that bringing products into modern distribution channels will boost trademark value, increase popularity and consumer trust. Therefore, the race to bring products into supermarkets has never been less severe so for supermarkets with wide distribution network and high sales, requirements are stricter. However, it does not mean that distributors can set irrational requirements for suppliers.
Currently, modern retail channels merely account for 20 percent of retail market while the rest are traditional channels. Of course, modern retail network has been developing strongly and rapidly but it still takes time for them to increase the ratio. Moreover, small traders nowadays have made many positive changes.
As a supplier, selling products via traditional channels is much easier with less strict requirements, lower discounts, and faster capital rotation. Therefore, firms should not neglect this distribution channel.
High-Quality Vietnamese Products Business Association had held many programs to bring Vietnamese-made products into traditional markets and to rural areas which attracted attention of many local companies.
Diversifying distribution channels will help to bring products to more consumers and lessen dependence on crowded supermarket.
In addition, while entering supermarkets, some firms were faced with the situation that they had to compete with their own products when they accepted supermarket's private-label products. In the future, when more foreign supermarkets enter Vietnam, pressure might reduce and Vietnamese-made products may find it easier to enter the modern distribution channel.