HANOI, Sept 14, 2009 (AFP) - Fast-industrializing Vietnam opened its first aircraft parts plant on Monday, reflecting the country's "tremendous growth" as a regional manufacturing centre, officials said.
MHI Aerospace Vietnam, a subsidiary of Japan's Mitsubishi Heavy Industries, began operations in June and made its first delivery last month, the firm's president, Hirotaka Masuda, told a ceremony at the plant.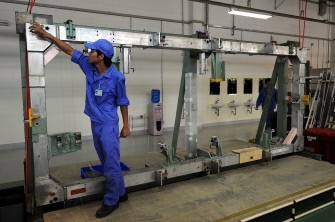 A worker is seen at an assembly line inside a Misubishi Heavy Indutries Aerospace Vietnam Ltd. factory in Hanoi on September 14, 2009 (AFP photo)
The company aims to produce wing flaps for 10 Boeing 737 passenger jets a month.
Standing beside a flap, Masuda said Mitsubishi Heavy scouted locations across Asia, but settled on Hanoi because of its political stability, abundant workforce and facilities at the Thang Long Industrial Park.
The park, near the city's international airport, is home to other major Japanese-owned firms.
Ralph Boyce, president of Boeing Southeast Asia, called Monday's opening a milestone that "reflects tremendous growth of the manufacturing sector here and the burgeoning of technical expertise available in Vietnam."
The seven-million-dollar facility employs more than 50 people, many of whom watched the ceremony in their purple coveralls.
The workers received Japanese language training in Hanoi and 11-months of technical instruction in Japan, Masuda said.
"What we have emphasized is training," he added. "We cannot afford even a small mistake," he said.
Phan Huu Thang, head of Vietnam's Foreign Investment Department, said he hoped for the factory's success "which will boost the development of this industry in Vietnam."
In a brief interview, Masuda told AFP that the global financial and economic crisis "is not affecting our production."
The Japanese parent company has been producing 737 flaps since 1976 but expansion to Vietnam is part of an effort to shift some metal components assembly overseas, "where abundant human resources are available," a company statement said.
Mitsubishi Heavy's Japanese facilities, meanwhile, will focus on high-value-added operations, it said.