Yesterday, the Saigon Thuong Tin Commercial Joint-Stock Bank Group (Sacombank) officially made its debut as the Sacombank Group, becoming the first private financial group in Viet Nam.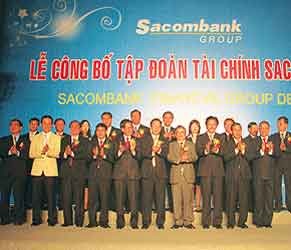 Members of the Board of Directors and Board of Management of Sacombank Group
The group has a registered capital of  VND5,200 billion and total assets of VND79,915 billion.  The Sacombank Group will operate in financial and non-financial fields such as securities,  money remittance, finance leasing, construction, real estate and educational investment.
Sacombank Group has 11 subsidiaries, among them five are directly-dependent companies including SBS Securities Company, SBL Finance Lease Company, SBR Money Remittance Company, SBA Debt Management and Assets Exploitation Company and SBJ Gold and Gem Company.
 
The six others are companies that will coordinate with the group to carry out mutual strategic plans. They are Sacombank Investment Company, Tan Binh Import-Export Company, Tan Dinh Import-Export Company, Toan Thinh Phat Investment and Construction Company, Saigon Thuong Tin Real Estate, Vietnam Joint-Venture for Management of Fund for Investment and Securities and Da Lat University of Yersin.
Mr. Dang Van Thanh, General Director of the Sacombank Group says that in the coming future the group will manufacture gold taels with the trade name of "Sacombank Money God". In addition, the Sacombank Group also inaugurated its new VND200 billion office at 266-268 Nam Ky Khoi Nghia Street in District 3 of Ho Chi Minh City. 
Other commercial banks in Viet Nam are also following Sacombank's example and are on the way to becoming groups.