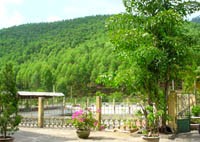 A view of the Xuong Rong new city in Thai Nguyen province
Japan's Intra Corp. was granted a project license by The Thai Nguyen People's Committee on January 1st making it the first foreign investment project to obtain one this year.
The license gives the go-ahead to a US$ 100 million development project in Xuong Rong city (Phan Dinh Phung quarter, Thai Nguyen Province).
70% of the funds are earmarked for the construction of luxury accommodations, offices and hotels. 18% will be used for the relocation and compensation of some existing residents and the final 12% will be used to expand Xuong Rong Lake to a total area of 18 hectares.
According to the Chairman of the Thai Nguyen People's Committee, Nguyen Van Kim, the project is modeled on a similarly sized Japanese city and will create a beautiful urban landscape.