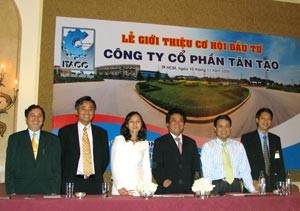 Itaco management at a Friday workshop in Ho Chi Minh City, held to introduce ITA shares (Photo: TC)
The State Securities Commission has permitted the Tan Tao Industrial Park Corporation in Ho Chi Minh City to list on the city's stock exchange.
The company, Viet Nam's first industrial park operator to list, will start trading 45 million shares on November 15.
The company's trading name is Itaco, and its shares, coded ITA, have a face value of VND10,000.
The industrial park was set up in 1996 and covers 385 hectares currently. By this June, the park housed 227 domestic and foreign projects with the combined capital of more than VND5.2 trillion and US$122 million.
The company has leased out the all available land in the original section and 62% of the expanded section.