The Ho Chi Minh City Department of Natural Resources and Environment has opened its realty trading floor in town in a fresh move to warm the real estate market, which has been under a chill for the past two or three years.
"Besides being a place for real estate dealings, the trading floor supplies information and advice about the realty market, suggests prices and makes price appraisals," Dao Anh Kiet, Deputy Director of the department, said at the opening ceremony on April 10, 2006.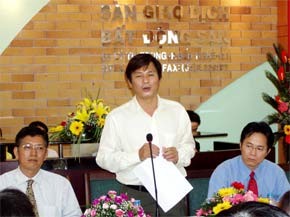 Mr. Dao Anh Kiet (C) announces the opening of the realty trading floor at 63 Ly Tu Trong Street (Photo: Tuong Thuy)
"In addition, we here at the trading floor will collect information and feedback from those operating in the market to report to Vietnamese lawmakers so that they can adjust real estate regulations in favor of the market," he said.

Mr. Kiet said Ho Chi Minh City leaders have instructed his department to work out ways to develop the realty market, including promoting banks' activities to fuel the market by lending to housing projects in the city, Viet Nam's southern economic hub.
Therefore, the trading floor is a partnership between the department's Map Inspection and Natural Resources Environment Consultation Center and ACB, a Ho Chi Minh City-based major retail bank.
Mr. Nguyen Quoc Dung, deputy director of the center, is the director of the trading floor, located at 63 Ly Tu Trong Street, District 1. Another venue with the same functions is the ACB Real Estate Company at 30 Mac Dinh Chi Street, District 1. ACB Real Estate director Pham Van Thiet is in charge of the second venue.
Mr. Kiet said his department, which supervises the Ho Chi Minh City realty market, has a better understanding of housing and realty trading procedures than any State agencies and consulting offices else. Therefore, the partnership between the department and ACB, which has expertise in the field, is expected to effectively warm the market.
ACB president and CEO Ly Xuan Hai said many foreigners are now investing in the Vietnamese real estate market. New changes in the market include a large number of housing projects worth tens of millions of US dollars and covering hundreds of hectares or bigger. As for such big projects, few house developers have enough funds to carry out and banks have to join the game.