The first spot selling pork under the Vietnam Good Agricultural Practice (VietGap) has been opened in Hoa Binh Market, District 5, Ho Chi Minh City by An Ha Company.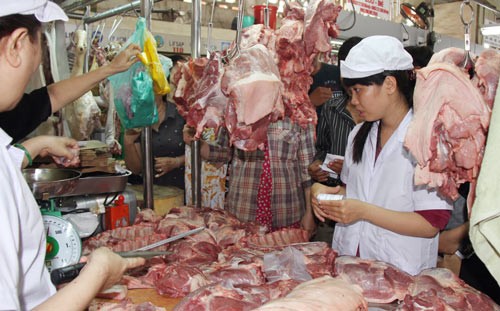 The VietGap pork stall at Hoa Binh Market, District 5 (Photo: SGGP)
The opening of the stall is result of the World Bank financed project on livestock competitiveness and food safety (lifsap), which has been implemented since 2010 with a total fund of US$5 million.
The project has assisted 848 participating households to practice safe breeding in nine communes of Cu Chi and hoc Mon districts.
It has supervised all phases from feed, breeding, slaughtering and selling and taken samples periodically for analysis on diseases, quality, banned substance residues and environmental impact estimation.
Slaughterhouses have been repaired and upgraded with waste treatment systems to meet requirements on environmental hygiene.
 
Implementation of the project has faced with many difficulties, from changing farmers' breeding habit to choosing markets with stalls meeting hygiene requirements.
That is why although VietGap pork has been produced for the last couples of years but consumers have been unaware of it.
An Ha Company has become a pioneer in safe pork supply chain by connecting breeders, slaughterhouses, transporters and sellers together.
The company purchases all pigs from households practicing VietGap standard, about 240 pigs are slaughtered a day. Besides Hoa Binh Market, it will provide the product at other markets.
The price of VietGap pork is equivalent to that of the same product in the market, said director of the company Nguyen Thi Hong Tham.