The first Vietnam Supermarket in Cambodia will open on December 29, creating advantageous condition for domestic businesses to sell and advertise Vietnamese goods to people in this neighboring country.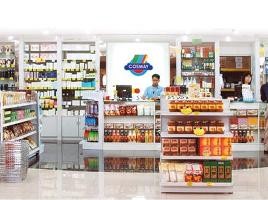 A corner of the first Vietnam Supermarket in Phnom Penh, Cambodia, which will open in the end of December
Construction of the Vietnam Supermarket, in Monivong Street, Phnom Penh, Cambodia, has a total capital of US$3 million, invested by Z38 Company, a member of Vietnamese Business Association in Cambodia.
Located on 3,300 square meters, the supermarket will sell goods for Vietnamese companies with the prices set by themselves. Payment would be conducted through Agribank, BIDC Bank and Sacombank.
Seng Meng, the supermarket chairman and the association deputy chairman, said that the Vietnam Supermarket will meet demand of oversea Vietnamese living in Cambodia and the rising number of Cambodian who have loved Vietnamese goods.
In addition, the facility will help those who want to but yet expand business to Cambodia as they have been afraid of language difference and procedures, he said.
Besides having his supermarket to sell their goods, Vietnamese companies could hire stalls to do that themselves. The Vietnam Supermarket will assist them with export-import procedures and selling staff, who are oversea Vietnamese being able to speak both Vietnamese and Cambodian.
The Z38 Company has planned to open another three Vietnam Supermarkets in other Cambodian provinces including the famous tourist destination Siem Reap.