The export of raw and processed fish has earned Viet Nam US$2.3 billion so far in 2006, a year-on-year increase of more than 21%. The figure for September alone is estimated at US$292 million.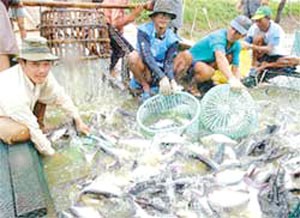 Catching basa catfish in the Mekong Delta region
As the prices of shrimp, squid and other aqua products tend to rise toward the end of the year, the Viet Nam Association of Seafood Exporters and Producers (VASEP) is confident of a final figure exceeding US$3 billion, well above its original 2006 target of US$2.8 billion.
 
According to VASEP's Freshwater Fish Committee, the export of tra and basa catfish to 70 countries and territories has reaped more than US$600 million, the highest ever for catfish and second only to tiger shrimp export.
 
The companies that process catfish for export believe their business will make US$800 million this year thanks to the traditionally strong demand for their products towards year-end.