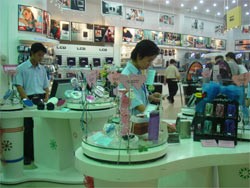 Sony ranks as one of leading brands in Viet Nam (Photo: VH)
Half of the 500 well known brands are Viet Nam's, announced the Viet Nam Chamber of Commerce and Industry (VCCI) in the "Brand-name vision" ceremony held on April 5, 2006 in Hanoi.
Ten most well- known brands of ten industies including Eastern Asia Bank, Prudentials, Biti's, Vinamilk, Dong Tam Ceramic, Honda, Kymdan, Metro, Nokia, and Sony were awarded prizes at the event.
AC Nielsen had distributed about 3,000 survey forms in 10 key cities, including Ha Noi and Hai Phong in the north, Da Nang in the central region, Ho Chi Minh City and Can Tho in the south.
A book entitled "Well-Known Brands in Viet Nam 2006" and a website, addressed www.thuonghieunoitieng.info, will be launched to showcase the honoured brands to businesses, trade promotion organizations and economic associations both in Viet Nam and abroad.

Related Article:

Well-Known Brand Names in Banking – Finance – Insurance Sector