A five-day fair designed to promote Vietnamese goods and encourage Vietnamese people to use locally-made products opened Wednesday in Ho Chi Minh City with about 250 booths.

The "Honoring Vietnam's Products" exhibition, organized by the Ho Chi Minh City Union of Business Associations (HUBA) at the Tan Binh Exhibition and Convention Center in Tan Binh District, features food, foodstuff, textile and garment items, electronics, departments, motorcycles, furniture, footwear and other products.
"This is the first time the exhibition goes with the name Honoring Vietnam's Products," HUBA chairman Huynh Van Minh said at the opening ceremony.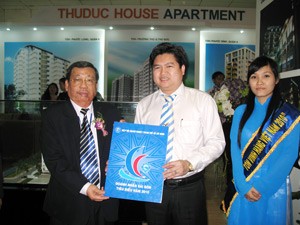 HUBA chairman Huynh Van Minh (L) presents a certificate of merits to a representative of Thu Duc House Corp. at the fair on Nov. 3. Thu Duc House is among companies receiving the certificates for their substantial contributions to the city's development this year. (Photo: Tuong Thuy)
"The event also aims to help local companies improve competitiveness, increase market share and boost exports," he said.
Honoring made-in-Vietnam products is also in line with an on-going national campaign initiated by the country's leaders to further boost the nation's economy, Mr. Minh added.
The event includes group pavilions representing companies from southern provinces.
The Ho Chi Minh City Union of Business Associations started organizing the annual exhibition two years ago to support its member in business expansion. Business associations from southern provinces have then joined the fair.
The Ministry of Industry and Trade and Ho Chi Minh City People's Committee have given instruction to the fair organizers.