The highly controversial US$11.5 million Floating Dock 2 has been finally sold to a US Company through a border-gate transfer, said one local customs official.
The Floating Dock was left to rust and had severely deteriorated in Cam Ranh Bay in the central province of Khanh Hoa for more than four years.
Ho Chi Minh City-based Long Son Shipping & Trading Joint Stock Company, the Dock's owner, is carrying out necessary procedures to move it to the US.
Before delivering the dock to the US, the owner has to pay a debt of VND1.7 billion to Nha Trang port authorities.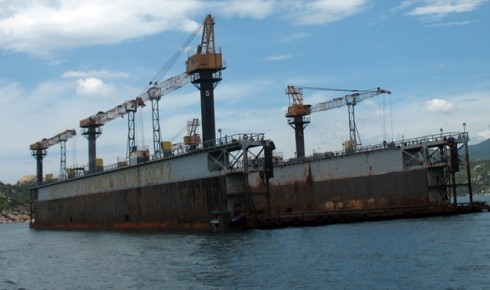 Floating Dock 2
Long Son Company had purchased the Dock from Singapore for $11.5 million under a temporary import and re-export plan, four years ago.
The 166.5-meter Floating Dock 2, with capacity of 12,000 tons, arrived in Cam Ranh Bay on August 9, 2008 under the management of HCMC-based Viet Hai Shipping and Real Properties Corporation (VSP), successor of Vinashin Petroleum Investment and Transport JSC. Debt-stricken Vinashin had held a 40 percent stake of the company, which bought the Floating Dock for ship repairs.
The Dock was purchased via Hanoi-based Bank for Investment and Development of Vietnam (BIDV).
Once purchased, this Floating Dock was never used for many reasons, one being that the People's Committee of Khanh Hoa Province in 2011 turned down the plan of using the dock, citing environmental concerns.