The price of Tet flowers has risen by an exorbitant 20-50 percent in the Central Highlands city of Dalat in anticipation of Tet (Lunar New Year).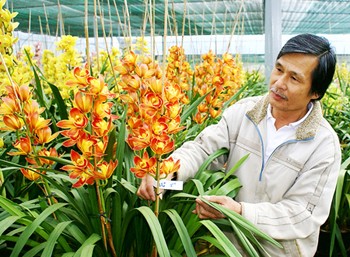 A farmer taking care of his terrestrial orchid farm in Dalat City (Photo: SGGP)
Doan Van Quynh, owner of an orchid farm in the city said that old orchid varieties had been destroyed while the new varieties had not yet blossomed which was causing a slump in the market.

Moreover, the extreme cold conditions did not allow the entire orchid crop to bloom, he said.
Most of the terrestrial orchids grown in the city have already been purchased in advance at a 50 percent higher rate than last year.
A single sprig of the new orchid variety has sold at VND1.5 million while it is about VND200,000 for a sprig of the old orchid varieties. Many orchid farms are providing tens of thousands of orchid baskets at a 20 percent hike in price.
Other exotic varieties of lilies and orchids are also fetching high rates even though they are available in abundance.
Nguyen Dinh Son, director of Dalat Flower and Forest Biotechnology Corporation said his company has prepared 240,000 sprigs of lily for the Tet market at a price of VND150,000 for a bunch of five sprigs, double the normal price.
The gladioli flower price has touched an all time high of VND25,000-30,000 for a bunch of ten sprigs while it was a mere VND10,000 last year.
In Thai Phien flower village in Ward 12 of the city, over 70 hectares of daisies have just begun to flower and are ready for cutting for Tet.
The biting cold in the northern and central regions has not spared the daisy flower either and prices are expected to shoot up by 30 percent as compared to last year.