The textile and garment industry in Vietnam had targeted its export earnings at US$13.5 – 14 billion this year, however, the economic downturn in the US and EU countries may drop the figure to $13.1 billion.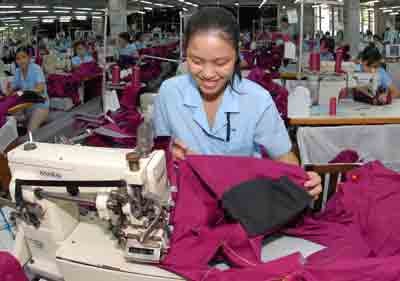 Ha Long Bay The fluctuating EU and US markets have dropped export earnings of the textile and garment sector in Vietnam (Photo: SGGP)
During the first eight months of the year, Vietnamese textiles and garments made a breakthrough in their export turnover, crossing $1.4 billion a month.  With this in mind, the Vietnam Textile & Apparel Association (Vitas) set its annual target at $13.5 – 14 billion.
Unexpectedly, the situation worsened in September and export orders were reduced substantially. EU and the US, the two main markets for Vietnamese textiles and garments, have reduced their orders by 20 percent in spite of an agreement early this year.
Exporters say that exports to Japan have improved because Japanese importers have taken advantage of tax incentives in the trade agreement between the two countries, with Japan now diverting more orders from China to Vietnam.
With the unexpected changes in the EU and the US markets, Vitas says that this sector can only reach a target of $13.1 billion in 2011.
Meanwhile, even though enterprises face difficulties, they still have to pay for production costs, health and social insurance for laborers as well as workers basic salary, which will increase from VND1.35 million to VND2 million per month ($95) from October 2012.
In fact, companies have raised the basic salary to attract more laborers. The increased expense will be an added burden on these companies who employ thousands of workers.
Textile and garment companies hope that the government will adopt a preferential policy for this sector to reduce their burden and help them to further develop.