Members of the Vietnam Food Association (VFA) will purchase 400,000 tons of rice, equivalent to 800,000 tons of paddy rice from farmers in August, at prices no lower than VND3,800 per kilogram, said Nguyen Tho Tri, deputy chairman of VFA, August 10.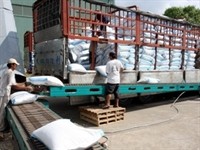 Purchasing rice in the Mekong Delta (Photo: VNA)
The purchase aims to solve the drop in recent falls in prices due to farmers reaping a large summer-fall rice crop, which have driven down prices, Mr. Tri said.
With such prices, farmers will able to net profits of at least 30 percent.
The VFA also advised food companies to seek markets to boost exports, but they need to implement basic floor prices as well.
The companies also need to avoid competing with each other, which can cause unnecessary price falls, he added.
The association will punish businesses that have contacts but do not have the ability to carry out their obligations.
Up to the end of July, companies signed contracts to sell 5.4 million tons of rice and export 4.1 million tons, at an equivalent of US$1.9 billion.