The Vietnam Food Association has said it will buy 500,000 tons of rice in September at VND3,800 a kilogram or above to mop up excess supply and prevent price falls.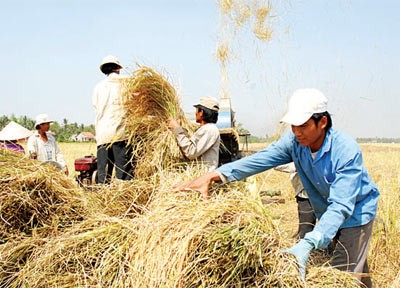 Farmers harvest rice in the southern province of Long An (Photo: SGGP)
It is an initiative by the VFA to safeguard farmers and resist pressure from foreign traders to lower prices, its vice chairman, Nguyen Tho Tri, told the media on September 9.

With this purchase, there would not be enough rice for exporters to buy at low prices, he added.

Some exporters recently bought rice at lower than regulated prices to undercut others.

But traders wondered if it would be possible to buy such a large quantity since farmers do not have much rice left to sell.

Thailand has over 7 million tons in stock but has not allowed export price to drop, Tri said, adding it is not necessary for Vietnam to lower prices either.

The association hopes to keep export prices at US$400 a ton for 5 percent broken rice, $360 for 15 percent broken rice, and $350 for 25 percent broken rice.