Food & Hotel Vietnam 2011, the country's leading biennial food and hospitality trade event, opened in Ho Chi Minh City Wednesday with 374 exhibitors to display their products and services.
The three-day event occupies 8,880 square meters at the Saigon Exhibition and Convention Center in District 7 and features up to 15 group pavilions from Australia, Belgium, France, Germany, Korea (8 ones), Singapore, the US, and a new pavilion from Poland.
The exhibitors come from 30 countries and territories, with three-fourths from overseas, said Mr. Stephan Tan, chief executive of Singapore Exhibition Services Pte Ltd.
The Singapore company and its Vietnam partner VCCI Exhibition Service Company organize the exhibition in its sixth edition.
The food and drinks category includes a wide and diverse range, covering drinks and beverages, wines, spirits and beer, chilled and frozen food, confectionery, snacks and ice cream, dairy products, fresh produce, seafood, as well as processed and convenience foods, according to the organizers.
Mr. Michael Scuse, Acting Under Secretary for Farm and Foreign Agricultural Services, the US Department of Agriculture, and Dr. Robert Kloos, Germany's Vice Minister of Food, Agriculture and Consumer Protection, attended Wednesday's press conference on the exhibition.
The two high-ranking officials are leading two trade missions coming from their countries to boost trade ties with Vietnam.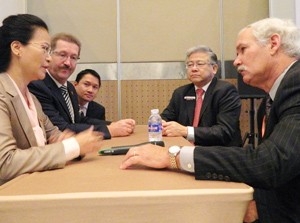 VCCI Exhibition Service director Bui Thi Thuc Anh (L), Robert Kloos (2nd-L), Germany's Vice Minister of Food, Agriculture and Consumer Protection, Singapore Exhibition Services CEO Stephan Tan (2nd-L), and Michael Scuse (R), US Acting Under Secretary for Farm and Foreign Agricultural Services discuss business during the Food & Hotel Vietnam opening ceremony Sept. 28, 2011. (Photo: Tuong Thuy)
"In the light of stagnating domestic markets, the German agricultural and food industry needs further growth in worldwide exports to contribute to maintaining and increasing added value and prosperity in Germany," said Dr. Kloos.
"Under the umbrella of 'Made in Germany' we offer the German agricultural and food industry an outstanding platform for making and maintaining business relationships all over the world.
"We are therefore proud to be able to present prominent enterprises to you under the German umbrella and their products 'Made in Germany'.
"I cordially invite you to visit the German Pavilion here at Food and Hotel Vietnam 2011. The German exhibitors are awaiting you with expertise, know-how and a bit of Germany to inform you about their enterprises and their product ranges," said the German vice minister.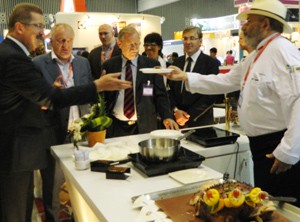 Dr. Robert Kloos (L), Germany's Vice Minister of Food, Agriculture and Consumer Protection, receives a German dish from the German Pavilion for tasting on September 28, 2011 (Photo: Tuong Thuy)
Vietnam saw 3.43 million foreign tourists in the first seven months of this year, a 17.3% increase from the same period last year, according to the country's General Statistics Office. The rise has caused a boom in the hotel sector with increased hotel occupancy rates, and various international hotel chains launching new properties in 2011 and next year.
"With the tourist numbers and hotel properties increasing in Vietnam, international visitors' expectation are also gradually growing," said Singapore Exhibition Services chief executive Stephan Tan.
"For example, foreign tourists will require a variety of new cuisines that can cater to their tastes and palates. This trade show aims to cater to those needs by providing a platform for restaurants, chefs, hotels and businesses to network, gather the latest industry information and forge new business opportunities."
A conference will be held alongside the event focusing on Vietnam's food and hospitality industry.
The trade show also includes the Vietnam Culinary Challenge 2011, Vietnam Barista Competition 2011, Vietnam's Best Sommelier Competition 2011 and World of Bordeaux Wines Seminar, Mr. Tan added.
The cooking challenge includes team and individual competitions, with the latter featuring Vietnamese Cuisine Challenge; Vietnamese Cuisine Display; Chinese Cuisine Challenge; Five classes of Hot Cooking (Poultry, US Beef and US Potato, Australian Lamb, Fish/Seafood and Pasta); Plated Food Display; Plated Desserts; Dress the Cake; Fruit and Vegetable Carving and Bread Showpiece.
Meanwhile, the best of Vietnamese baristas will battle for the title of the country's champion in the Barista Competition, according to the Food & Hotel Vietnam organizers.

On Thursday afternoon, a seminar to introduce Bordeaux wines will be conducted by Mr. Roderic Proniewski, a wine lover who shares his knowledge by giving wine talks. The seminar is brought about by the region of Bordeaux and the European Union.