Although Vietnam's economy faced many set-backs during the past year, food items and consumer products remained unaffected, with well known companies seeking to either invest in this sector or buy a stake in established companies.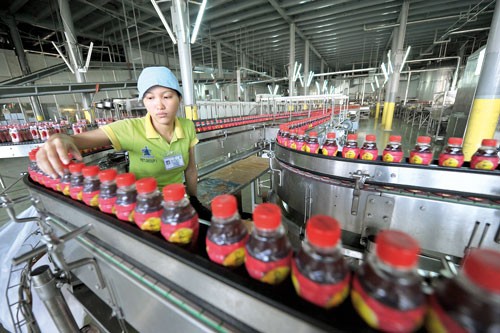 Foodstuff and consumer products draw investors. (Photo: SGGP)
At a meeting held between Vietnamese and Korean companies in July last year, Sung Ho Kong, acting director of ASEAN-Korea Centre, said that the food processing sector of Vietnam has caught the eye of many a Korean investor. Seeing potential in this sector and having a high demand for high quality food, several Korean companies now want to take the plunge in Vietnam's food processing industry.
Korea is currently the second biggest investor in Vietnam with a total investment of US$23 billion. However, they mainly invest in smokestack industries and manufacturing. Thus, the food sector is relatively new and as yet uncovered.
According to market research conducted by prestigious international organizations such as Research and Markets, and Companies and Markets, Vietnam's food and beverage sector shows high potential for investment.
Many foreign investment funds in Vietnam have shifted investments into other fields like foods, consumer products, health, and education beside real estate. These fields are considered to be less affected by fluctuation in global economy and domestic upheavals.
The Yen Viet Company , processors of the "Bird's Nest" product, coffee exporter Thai Hoa Corporation, or An Giang Plant Protection Joint Stock Company are listed by Vinacapital, the leading asset management company in investment banking and real estate consultancy in Vietnam. The fund has raked significant profits after it divested from Vinacafe Bien Hoa Joint Stock Company.
Dominic Scriven, CEO of Dragon Capital, said that his company wants to now invest more in food items, consumer products and software services.
Rush to buy shares
Besides new investments, individual investors, local and foreign investment funds are targeting purchase of shares in big food manufacturing companies like Masan, Kinh Do, and Vinamilk. For example, the US investment fund Kohlberg Kravis Roberts decided to buy 10 percent shares of the Masan Group in April last year, for US$159 million. This is the first such investment in Vietnam, and the biggest merger and acquisition of a private company in the history of Vietnam.
In September 2011, PENM II Fund under Bank Invest, one of the leading independent asset managers in the Nordic region, sold 4 million shares of Masan at a total value of more than VND600 billion. This transaction brought in huge profits for the fund.
An M&A expert said that those firms that are in the food and consumer products sector, having a very methodical management system in place, having a steady growth rate, and knowing how to market their brand, will capture the attention of investment funds in 2012.
Vietnam's leading dairy producer Vinamilk has also attracted many foreign investors. By the end of September last year, although the economy remained stagnant, the company's revenue rose by 34.8 percent and margin jumped sharply by 10.1 percent, as compared to the same period last year. To achieve this, besides expanding investments, Vinamilk has been seen spending a lot of money in marketing strategies. Currently, many foreign investors and investment funds, including Dragon Capital, are holding shares in Vinamilk.
Although forecasts show that the economy will still face difficulties and challenges this year, the above movements indicate that food items and consumer products will remain focus of attention and draw investors.