A new government decree, in line with its WTO commitments, allows foreign-invested enterprises to import commodities directly for retail distribution and it is thought that this will lead to a discount on imported electronic products and thus affect local enterprises.
 
Enterprises at the ready, prices likely to drop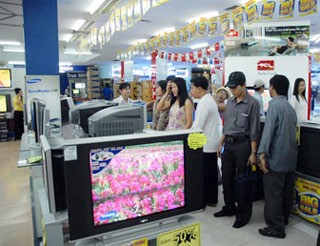 Prices of imported electronic products are likely to drop when foreign-invested enterprises are allowed to import them directly for retail distribution
At present, local enterprises import the majority of electrical and mechanical appliances and motorbikes that are on the market. Foreign enterprises are permitted to import them only for marketing purposes and their import is controlled by a quota system.
 
The Trade Ministry has drafted a circular to guide implementation of the new decree, which they plan to launch in the third quarter of this year.
 
None more so than foreign enterprises are looking forward to the circular, which will give them a legal way to boost their imports, investigate new product sources and map out a new marketing strategy.
 
Many have re-registered their businesses in accordance with the new laws so that they can enjoy the right of direct import.
 
Nguyen Van Dao, deputy general director of Samsung Vina Company, said the company would complete the necessary procedures in order to be importing new products by the end of the year.
 
Vu Hoang Chuong, deputy general director of JVC Vietnam Co. Ltd., said that his company plans to combine imported and locally produced products. Those imported will only be those that we are not currently making in Viet Nam and those that we are only able to make here in small quantities, those already made here will continue to be made here, he added. 
Electronic companies like JVC, Sony and Panasonic also said that they would only import products that they do not yet make in Viet Nam and will only import products made by their companies.
 
Yamaha Vietnam Co. announced that they would only import larger motorbikes, and those popular models that are not yet available in the country.
 
General Director of Sony Vietnam Co. Kimihiro Itoki said that the company's import and distribution would not witness many changes; they simply plan to build a retail system with diversified business plans and reasonable prices.
 
Sony will only import products that are not currently being manufactured in Viet Nam, and they will ensure that their imports do not significantly affect local production, Mr. Itoki added.
 
However, joint venture companies that concentrate mainly on trade will import various new brand products, particularly cheap ones that will create competition.
 
Mr. Chuong said that once foreign-invested enterprises are allowed to import commodities directly for sale, intermediary expenses would fall, a great advantage allowing them to reduce the price of imported commodities.
 
In the short term, imported appliances and motorbikes will be at a minimum 5 to 10 percent cheaper than those made locally and they will be much cheaper when there are many more importers.
 
Local enterprises shift their production
 
At present, foreign electronics firms are no longer interested in manufacturing in Viet Nam; instead, they are switching to import, which is both handy and cheap in terms of investment.
 
The leader of one electronics firm said that previously, Vietnamese electronic firms developed rather well, but recently their products have been unable to compete against cheap imports.
 
If foreign-invested enterprises are offered the right to import goods, the market share of local electronic firms will be narrowed.
 
In order to cope with this situation, some local firms will have to change their business or diversify their products.