Several South Korean and Japanese companies have invested in Vietnam's retail and food sectors for large potentials in the local market.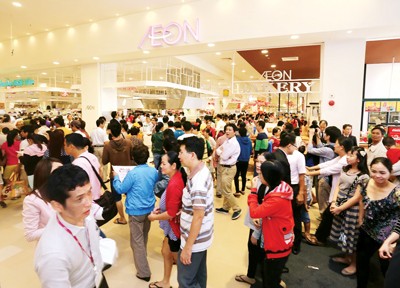 People do shopping at Aeon Mall in Tan Phu District, HCMC (Photo: SGGP)
Since early this year, Vietnam has received renowned foreign investors in the retail industry. First was the opening of a 50,000 square meter shopping mall in Tan Phu District in Ho Chi Minh City.
It was invested by the Japan's leading retailer Aeon Mall at US$100 million.
 
The group is expected to open another center in the neighboring province of Binh Duong by the end of the year.
South Korean retailers have also recently stepped up investment in Vietnam. The country's leading discount store Lotte Mart has built four commercial centers in HCMC, Hanoi and Da Nang.
The distribution giant targets at 60 stores nationwide by 2020.
In addition, the American chain of discount department stores K-Mart and the largest retailer in the South Korea E-Mart are also looking for investment opportunities in the Southeast Asian nation.
Food and fast food have attracted more foreign enterprises. At the end of July, ten small and medium enterprises from Japan met with Vietnamese businesses on investment chances in HCMC.
Mr. Osato Kazuhiko from the Japan Association for Promotion of International Trade said that Japanese enterprises have been on the trend of investing in service and food fields since 2012.
At present, Japanese investors run 300 food stores in HCMC. Half of another 200 are doing business in retail and service fields while the rest are in production sector.
South Korean brand names such as Lotteria, BBQ Chicken companies are managing to develop the fast food segment in Vietnam.
The 90 million people market makes Vietnam more attractive, said Mr. Hirotaka Yasuzumi, CEO of the Japan External Trade Organization in HCMC. The country's economy and GDP per capita have steadily grown.
He proposed the Vietnamese Government to continue administrative formality reform to encourage foreign investment.
Mr. Hong Sun, secretary general of the Korean Chamber of Commerce, said that with potentials in farm produce, Vietnam had abundant material sources for the development of food processing industry.
Because of high ratio of young population, Vietnam spends more in food and beverage and shopping than other countries in the Asian region, he said.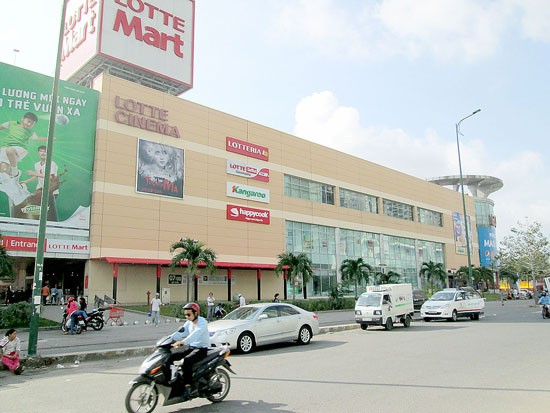 A Lotte Mart Supermarket in HCMC (Photo: SGGP)
South Korean enterprises will further invest and broaden their market shares in Vietnam in future, Mr. Hong Sun said. He hoped that the Vietnamese Government would create more advantageous conditions for them to run their business in the country.
Food processing is one of the strengths for Vietnam to develop the agriculture based commerce. Therefore, the Government should encourage foreign investment in development of infrastructure and processing plants to modernize the potential agricultural production field, he proposed.
Foreign direct investment reached US$9.53 billion in the first seven months this year, accounting for 80 percent of the number in the same period last year, reported the Foreign Investment Agency under the Ministry of Planning and Investment.
Since early this year, 46 nations and territories have invested in Vietnam. The South Korea takes the lead with US$3.13 billion and Japan ranks third with US$1.11 billion.