Viet Nam will be able to maintain its high economic growth and remain one of the most attractive investment destinations for foreign investors, said participants at a seminar entitled "Viet Nam's Capital Markets: Looking Forward" held Wednesday in Ho Chi Minh City to focus on issues such as the development of domestic capital markets and investment opportunities for domestic and foreign investors.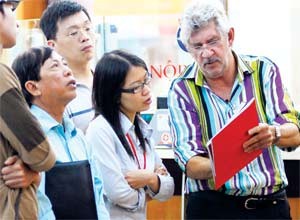 More and more foreign investors become interested in Viet Nam's stock market

It was organized by the Viet Nam – EU Business Forum to answer investors' concerns about the influence of global economy on the country and examine how to ease access for investors wishing to enter the rapidly-opening economy of Viet Nam.

About VND100 trillion (US$6.25 billion) worth of shares were issued last year, Mr. Nguyen Doan Hung, Deputy Chairman of the State Securities Commission said. However, due to many reasons, the VN-Index has dropped 50 percent of its points compared to last year.

Moreover, economic growth this year has so far been a bit lower than the government's target. The government still hopes that Viet Nam will achieve a growth rate of 8 percent and expects this to be higher than the growth rates of other countries in the region, he added.

The U.S Central Bank will reduce the interest rate by one percent in June in an attempt to save the country's economy from collapsing, said Mr. Madhur Mehta, Chief Executive of the Standard Chartered Bank. Therefore, investors should put money into securities that have a high liquidity such as government bonds.

This recommendation was approved by Mr. Dominic Scriven, director of the Dragon Capital Group, a British investment fund management company. He added that government bonds pay interest of 7.4 percent and are therefore likely to do better than an investment in the stock market.

Many loans which use stock as collateral may be taken out in the next two months and the stock market may recover if investors use these loans to purchase more stock, said Mr. Fiachra MacCana, Chief Executive of HCMC Securities Corporation.

Another possibility is that during the next six months, banks will sell the shares given to them as collateral, Mr. MacCana added. In that case, the stock market would have a chance to recover if foreign investors are allowed to exchange dollars for dong and buy shares.

Viet Nam is one of the five most attractive investment destinations for foreign investors, said Ashok Sud, General Director of the Standard Chartered Bank in Viet Nam. Despite the many ups and downs in global economy, Viet Nam remains the sole country in Asia which enjoys increased foreign investment. Korea and China, meanwhile, are suffering from a decrease in foreign investment.

The country's existing problems can be solved once inflation is curbed, Mr. Sud added.
The issue of whether the domestic real estate bubble will burst was also discussed at the seminar. A great number of houses and buildings need to be rebuilt and thus the real estate bubble is not likely to burst, said Mr. Scriven.

The demand for luxury apartments remains high and many projects will be constructed in 2009-2010 to sustain the supply-demand balance so that the real estate bubble will not burst, Mr. MacCana said.