The real estate market attracted US$21.4 billion of foreign direct investment in the first seven months of the year, representing 48 percent of the total new registered capital, according to the Ministry of Planning and Investment.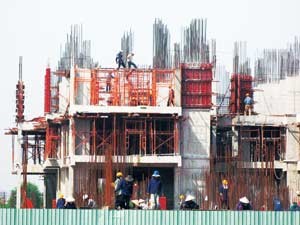 A property project being carried out in Ho Chi Minh City (Photo: SGGP)
The market accounted for 35 percent in 2007 and about 22 percent in previous years, the ministry's Foreign Investment Department under reported.
Of the total investment, investors have poured US$13 billion in building luxury urban areas and buildings for office lease, nearly $8.3 billion in tourism and hotels, and the rest for infrastructure in export processing and industrial zones.
Remarkable projects include the $4.2 billion resort in southern coastal Ba Ria-Vung Tau Province by the Canadian Asian Coast Development Ltd, the $3.4 billion university township in Ho Chi Minh City by the Malaysian Berjaya Leisure group and the $1.65 billion resort, golf course and apartment complex in southern Kien Giang province by the Starbay Holding Ltd.
The big flow of capital into the realty industry has aroused economists' angst. Pham Chi Lan, a senior pundit, said that foreign investors will import massive materials for their projects, thus accelerating trade deficit.
As real estate projects do not export products, investors will retrieve their capital in dong and transfer them in foreign currencies in their home country, thus causing difficulties to Viet Nam's forex balance.
Another pundit, Le Dang Doanh, hold that the real estate investment neither create jobs, nor boost technology transfer, production and export, and worse, may break the socio-economic development plan.
Contrary to those worries, head of the Foreign Investment Department Phan Huu Thang considered the situation as good.
He said that Viet Nam is facing a shortage of property supplies. Foreign investors are welcomed and given favorable conditions if they wish to invest in the sector.
He also suggested authorities and relevant agencies improve their capacity in capital management, supervision and disbursement to ensure balanced and suitable patterns of development for their localities.