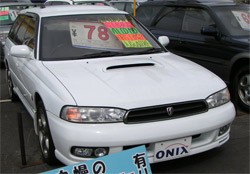 Used cars in foreign countries attracts Vietnamese businesses due to the cheap price
After the announcement of Decree No. 12/CP Decree, many domestic businesses have scoured for second-hand cars from abroad, causing a fever in foreign used automobile markets.
According to the current Vietnamese Laws, imported used cars have to be produced in or after 2001 accompanied by appropriate statistics on the environmental standards and the regulated mileage.
In addition, Vietnamese have to get approval from the Traffic Police if they want to modify their cars.
Foreign markets are hotter with Vietnamese demand
Therefore, the buyers have bought low-priced used autos and have them modified in foreign smash repair shops, which have been started in Seoul, Republic of Korea at present to meet with the increasing demand of customers, mainly from Vietnam.
Used cars will be face-lifted by changing tires, repainting, changing chassis and engine numbers and fixing the engines. They will then be brought to Viet Nam as "2001 model" or newer.
Talking about the quality, an overseas Vietnamese living in Australia said, "Some second-hand cars are still 95% new, but some need to be taken to scrap-yard. With today high techniques, old cars can easily be made to look brand new. Only dealers know exactly the original status of engines, color and manufacture date."
Foreign used auto market: lucrative
70 used cars, most of them are Toyota Camry, of a business in Ben Tre Province are on the way to Phuoc Long Port on March 20, 2006.
Though the shipment has not arrived yet, the consignee has announced the lowest retail price of US$20,000/ car (including tariff).
In addition, Vietnamese businesses also focus on Cambodia second-hand car market due to the cheap price: US$7,000 for a 2004 model Toyota Camry 3.0, US$5,000 for a 2003 model Toyota Camry 2.4, US$ 8,500 for a 2001 model Honda Civic, US$1,000 for a Toyota Corona.
According to American website: www.autotrade.com, specialized in used cars, the price is even 5 – 10 times cheaper than Viet Nam's: Ford Escape XLS Sport is worth US$9,988, Toyota Corolla Altis 1.8, with 23,234 miles on the clock, worth US$6,495, 2001 model Ford Focus worth US$6,000.
While waiting for Decree 12/CP to go into effect, Vietnamese buyers are already looking for used cars in those countries.
For the time being, however, buyers have to be content with the heavy tax, which is a sum of the original price, 150 percent of import tariff, 50 percent of luxury tax, and 10 percent of VAT. So the actual price is multiplied by 4 times.
For example, a secondhand Toyota Camry worth US$7,000 will be for sale for over US$30,000 after adding the vast array of tax on it.
Strict regulations needed
In other countries, imported used cars must have a clear summary or certificate of technical quality issued by the auto manufacturer. Moreover, the check on imported used autos has to be conducted when they are at the departure ports.
Therefore, in order to prevent Viet Nam from becoming a "car dumping ground", the government has to issue strict regulations and have measure in place to police them.