A business forum in Ho Chi Minh City Friday discussed measures to further promote investment in the Southern Economic Corridor and the Vietnam-Laos-Cambodia Development Triangle.

About 200 delegates from the three countries, mostly from Vietnam, attended the Mekong Sub-region Investment Cooperation Forum, organized by the Vietnamese Ministry of Planning and Investment, in partnership with Vietnam's Association of Foreign-Invested Enterprises (VAFIE) sand the Vietnam-Laos-Cambodia Association for Economic Cooperation Development.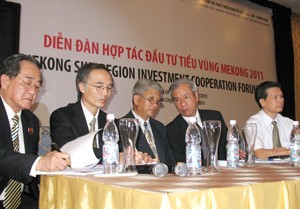 (L-R) Chan Long from Vietnam-Laos-Cambodia Association for Economic Cooperation Development (VILACEAD), Nguyen Noi, deputy head of Foreign Investment Agency of Vietnam's Ministry of Planning and Investment, Attapeu Province Deputy Head Khenethong Sisonvong, Cao Van Ban of VILACEAD, and VAFIE vice chairman Hoang Van Huan co-chair the Q&A session of the forum. (Photo: Tuong Thuy)
VAFIE chairman Pro. Dr. Nguyen Mai said the Vietnamese Government is encouraging Vietnamese companies to invest in foreign countries, especially in Cambodia and Laos.
"Various enterprises have gained encouraging successes in doing business in the two countries," said Dr. Mai, a leading investment expert of Vietnam.
The Southern Economic Corridor, shortly known as SEC connects Thailand's Bangkok, Cambodia's Phnom Penh and Ho Chi Minh City, Vietnam's southern economic hub. The corridor links the Thai capital with many Cambodian towns such as Poipet, Sisophon, Pursat, Neak Leoung and Bavet, through Ho Chi Minh City to Vung Tau, a strategic city in southern Vietnam which houses important many oil and gas facilities of the country.
Meanwhile, the Vietnam-Laos-Cambodia Development Triangle comprises 13 provinces – Mondulkiri, Stung Treng, Rattanakiri and Kratie of Cambodia, Attapeu, Saravan, Sekong and Champassak of Laos, and Kon Tum, Gia Lai, Dak Lak, Dak Nong and Binh Phuoc of Vietnam.
The triangle area covers 144,600 square kilometers with a population of 6.7 million. The whole area's socio-economic development level is still low, according to the Vietnamese Ministry of Planning and Investment.
Dr. Tran Dinh Thien, chief of the Vietnam Economics Institute, said at the forum that the CLV triangle is still a poor region, so it needs to work out proper policies and visions.
Almost provinces in the triangle are located in mountainous or highland areas. Carrying out cooperation projects in infrastructure development is later than scheduled, according to the ministry. One of things the triangle should do is calling for official development assistance funds from overseas, especially Japan, China and international financial institutions like the World Bank, Asian Development Bank.
Mr. Le Minh Dien, vice director of the ministry's Department of External Economic Relations, briefed to the forum the outcomes of the 7th meeting of the joint committee of the CLV development triangle, held in Attapeu on Dec. 6-9, 2011.
He said that regarding the forming of a common list of goods having origin in the triangle, Vietnam's Ministry of Industry and Trade in partnership with Lao and Cambodian officials, is building the list of goods enjoying preferential rates in the triangle and the list is to be finished this month.
One of the cooperation directions in the coming time is to continue the work in the preferential mechanism to reduce the customs clearance time and costs of goods crossing the borders.
Dr. Nguyen Minh Phong from the Hanoi Institute of Socio-economic Development, spoke about measures to promote cooperation in the Mekong Sub-region.
The first is to construct shared data system, enhance information about community cooperation in the sub-regional members.
Secondly, it is essential to have more active participation and support from major countries as well as international organizations for subregional cooperation activities.
The third is to develop and maintain a general mechanism to support interests and resolve disagreements timely.
The fourth is to strengthen the relationship of consultation and cooperation with other sub-regions in the world.
Meanwhile, Dr. Le Ngoc Bau from Vietnam's Central Highlands Agriculture Forestry Science and Technology Institute, said Vietnam has advantages for cooperation in coffee development in Laos.
"Vietnam can share its lessons, experiences and achievements in coffee production with Laos because there are many similarities between the conditions of Boloven Plateau of Laos and the Central Highlands of Vietnam.
"Vietnam has many technical advances in coffee nursery that can be transferred to Laos such as techniques in irrigating and fertilizing coffee trees.