Nearly 200 representatives from Vietnamese and Chinese businesses attended a trade promotion forum in the Chinese city of Tianjin on November 25.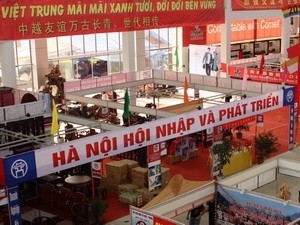 At the event (Source: VNA)
Jointly organised by the Vietnamese Embassy in China and Tianjin authorities, the event was part of activities to realise the Vietnamese government's plan to boost economic, trade, investment and tourism cooperation between Vietnam and other countries, as well as between Vietnam and China.
Addressing the opening ceremony, the Vietnamese Ambassador to China Nguyen Van Tho said that relations between Vietnam and China in general and Tianjin city in particular are growing fruitfully, creating a foundation for the two sides to step up cooperation in trade and investment.
Tho cited statistics as saying that Vietnam and China have seen an annual trade growth of 30 percent for the past five years. Bilateral trade has hit more than 28 billion USD since the beginning of this, a year-on-year rise of 40 percent.
He added that the two countries signed an economic and trade cooperation development plan for the 2012-2016 period during the recent visit to China by Vietnamese Party General Secretary Nguyen Phu Trong, laying a legal foundation for strengthening trade ties.
Tianjin Vice Mayor Ren Xuefeng affirmed that Tianjin city, one of the leading sci-tech development centres in China, will closely cooperate with Vietnam, especially in the fields of research exchange, economics, culture and education towards building a comprehensive cooperation mechanism in the near future.
At the event, Minister Counselor of the Vietnamese Embassy in China, Hoang Ngoc Vinh briefed Chinese businesses on Vietnam's guidelines, policies and laws relating to trade and investment cooperation with foreign partners.