Japanese investors have pointed out four chronic problems Vietnam must solve if it wants foreign investors to prioritize the country.
The first problem is that Vietnam is suffering from a shortage of skilled workers and managers.
The migration of laborers from rural areas to cities is a prevailing trend, so there should be measures to build dormitories for immigrant workers and offer them other incentives, according to Japanese firms mulling investment in Vietnam.
Managers should be well trained in foreign languages and have the professional skills needed to work with foreigners on foreign-invested projects, Japanese investors have said.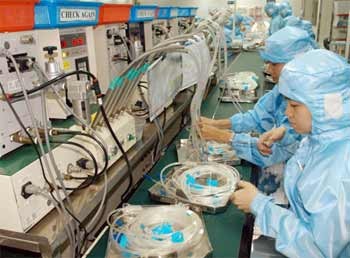 Workers at Nikkiso Vietnam Co., Ltd., a Japanese-owned factory in Tan Thuan Export Processing Zone, Ho Chi Minh City. The company makes medical devices. (Photo: SGGP)
Secondly, investors said Vietnam's poor infrastructure was also an impediment to major projects. The country lacks large seaports for deliveries, while its container transportation charges are higher than those of other countries in the region.
Thirdly, the country's supporting industries are underdeveloped, so the domestic supply of industrial materials meets just 30 percent of the total demand, investors said.
Lastly, rapid changes to investment and trade policy and/or the inconsistent application of those policies have made investing more difficult for foreign firms, Japanese companies have said. Foreign investors applaud Vietnam's attractive administrative and economic reforms, however, many say greater care and caution must be exercised when drafting and implementing policy changes.
Room to grow

Japan is now the biggest bilateral donor for Vietnamese infrastructural projects, but Japan's investment in Vietnam still only accounts for a modest proportion of its total investment in ASEAN countries, according to the Foreign Investment Department.
As the world economy continues to show signs of recovery, foreign direct investment (FDI) from Japan will likely flow more strongly into Vietnam again, economic experts have said.
Many expect that if Japan's Kobe Steel Ltd.'s US$1 billion steel ingot project in Hoang Mai Industrial Park in Nghe An Province is approved, many other leading Japanese investors will enter Vietnam soon thereafter.

Good signs

Many of the leading Japanese companies in Vietnam – such as Canon, Sony, Sumitomo, Suzuki, Toyota, and Mitsubishi – create prestigious, highly competitive products that can replace imports, experts have said.
Most Japanese projects in Vietnam are in the manufacturing sector, but Japanese investors are looking to expand to other fields such as services, telecommunications, finance, banking, and goods distributions, analysts have said.
The Japan External Trade Organization (JETRO) said that a great deal of Japanese companies have recently consulted with JERTO advisors about investing in the Vietnamese service industry.
Japanese companies have said that Vietnam is attractive to foreign investors not only because of its stable political backdrop but also because it has opened its markets, especially the service market, under its WTO commitments.
Japanese investors have said that the most attractive things about Vietnam are its large and growing population, its expanding consumer markets and its rising per capita income.
Reaching out

Planning and Investment Minister Vo Hong Phuc recently traveled to Japan to meet with companies there and promote Japanese investment in Vietnam in line with the Vietnam-Japan Economic Partnership Agreement signed last year. 
He told Japanese investors that Vietnam sees Japan as one of its most important partners.
By the end of March, Japan had 1,194 FDI projects operational in Vietnam with total capital of over US$18 billion, ranking fourth in the 89 countries and territories investing in the country, according to the statistics of Foreign Investment Department under the Ministry of Planning and Investment.
Of these projects, 60.4 percent were in the manufacturing and processing industries, the department said.