Entrepreneurs from France are showing interest in doing business in Viet Nam, a representative from the French Business Confederation (MEDEF) said on June 26.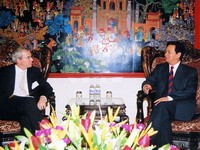 Mr. Frederic Sanchez (L) at a meeting with Vietnamese Prime Minister Nguyen Tan Dung
Frederic Sanchez, President of the Vietnamese sub-committee of the MEDEF, is leading a delegation of 20 businesses in transportation, industry, finance, energy, oil and gas, banking and automobile which started a four-day investment fact-finding tour of Viet Nam on June 25.
Sanchez said the tour is aimed at gaining insights into reform projects and the process of privatization and equalizations in Viet Nam, as well as projects to build a metro in Ha Noi and express railway routes in Ha Noi and the central province of Nghe An.
"Study into the Vietnamese market will help French businesses understand to what extent they can meet development requirements in Viet Nam," he said.
While in Viet Nam, the MEDEF delegation is slated to meet with the Vietnamese Prime Minister; the Ministers of Planning and Investment, Industry, Transport and Communication, and Construction; and the Chairmen of the Ha Noi and Ho Chi Minh City People's Committees.
According to Sanchez, Viet Nam is a dynamic market, with economic growth rates consistently hovering between 8-10 percent, a young population and the formation of a new middle class will drive up the demand for consumer goods in the country.
"There will be opportunities for French businesses," he said.
Sanchez said over the last 15 years he had visited Viet Nam between 2-3 times a year on average.
"Viet Nam is changing every day and we can see this change with our own eyes. Modernization and industrialization are taking place rapidly in the country," he said.
However, the French representative said some regulations and laws are no longer suitable for the development in the country. He suggested that they be adjusted to fall into line with international rules and norms as Viet Nam has already been admitted to the World Trade Organization.
According to the Ministry of Planning and Investment, France has invested in 326 projects in Viet Nam to the tune of US$2.29 billion and now sits at 9th on the 77 strong list of foreign investors in Viet Nam.
Since 2004, the French Government has also provided Viet Nam with US$400 million a year in aid and is the second largest bilateral donor to the country after Japan.