Local poultry farmers are not concerned about bird flu these days, but imported frozen chicken is sticking in their craw.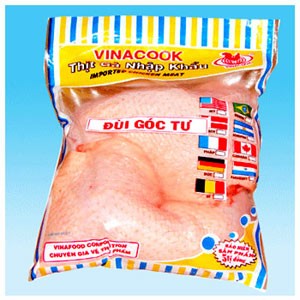 Imported frozen chicken is driving local chicken out of the market
At present, imported chicken sell at US$1.1-1.2 per kilogram while domestic ones are priced at US$1.5 per kilogram.
 
The imported product is cheaper because of lower costs and low import taxes.
 
Meanwhile, the price of breeding chickens at home has risen sharply. The price of chicken feed is nearly double that of last year, and are causing breeders huge losses.
 
Poultry traders say that without imported chicken, the price of local chicken would have increased by 15-20 percent.
 
It is estimated that about 3,000 tons of frozen chickens will be imported monthly by the end of this year.
 
According to the Ho Chi Minh City Veterinary Agency, the city is consuming a large volume of imported chicken, around 80 tons a day and nearly 200 tons a day during weekends and holidays.
 
Many chicken farms are scaling down production or closing shop because of heavy losses.
 
Many large poultry farms in the south which had tens of thousands to hundreds of thousands of chicken have cut their stock by 50 percent or more. Others have had to stop breeding and have put their farms up for sale, but there are no buyers.
 
A similar situation is developing in the pork industry as the price of pork has soared recently, and imported pork has begun to enter the local market.
 
The city imports around five containers of pork, or 153 tons, a month. The volume is expected to increase greatly in the near future.
 
As many as 20 Vietnamese companies currently importing pork, beef and chicken from the US, Brazil, Argentina, Australia, Canada and India.