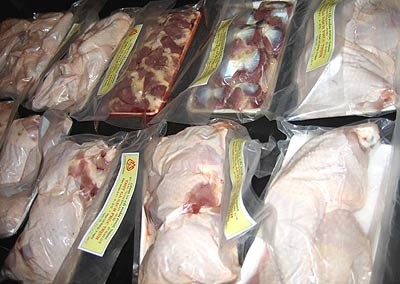 Frozen chicken.
Nguyen Xuan Binh, director of the Veterinary Office of the Division Six, said January 6 that despite the upcoming Tet holidays, which begin February 14 this year, the amount of imported frozen meat fell by 70-80 percent compared to the same period last year.
More than 10,000 tons of frozen meat were imported for Tet last year but there were only around 2,000 tons imported in December 2009, he said.
According to Mr. Binh, in the southern region there were around four or five containers with around 100 tons of frozen meat, including beef and chicken, imported each day.
The drop in frozen meat shipments was due to lower demand while that for fresh meat had increased, he said, adding that the office would carefully check the quality of frozen meat to ensure food safety during Tet.
Mr. Binh also said that recently discovered shipments of low-quality frozen meat had been almost fully re-exported.