Farmers in the South produce a large quantity of fruit, but get little of the profit when their fruit is exported, according to a survey.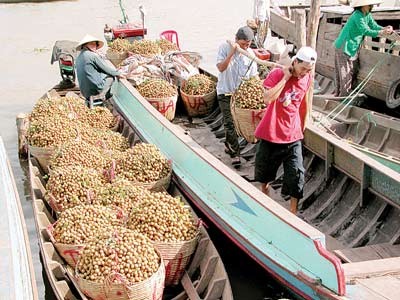 Longan is sold in domestic market
This news was released at a conference held by the Southern Fruit Research Institute and the Planting Department of the Ministry of Agriculture and Rural Development.

More than 460,000 hectares of orchards are in the South, accounting for more than 59 percent of Viet Nam's fruit-growing land.
The South produces 4 million of tons of fruit annually, including nationally famous brands with high yields such as Hoa Loc mangoes, longans, rambutans, Cai Mon durians, thick-skinned oranges and Nam Roi grapefruits, which are consumed domestically as well as exported.
Nevertheless, the volume of fruit export in the first five months has earned only US$158,000 for Southern farmers.
The target is to expand cultivation to 540,000 hectares so that the South can produce 6.5 millions of tons of fruit a year and export 280,000.
To achieve this long-term target, technological transfer for farmers needs to be improved, and standards need to be set for each kind of fruits. In addition, yield and quality need to be protected and farmer-oriented handling, processing and marketing techniques for fruit products need to be developed.