The Ministry of Agriculture and Rural Development held a seminar on May 24 to find ways to develop fruit orchards according to VietGap (Vietnamese Agriculture Practices) standards.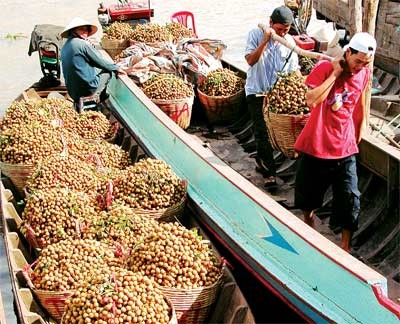 Merchants buy longans from growers in the Mekong Delta province of Vinh Long (Photo: SGGP)
The seminar took place in the southern province of Tien Giang where methods for planning and providing financial support to farmers to help improve cultivation techniques were discussed.

Participants also discussed ways to maintain and expand the link chain between farmers, buyers, processors and distributors to produce and market fruits and encourage the application of Gap Song Tien, VietGap and GlobalGap.

According to the ministry, the southern region has over 400,000 hectares of orchards, which produce over four million tons of fruit per annum.

The region annually exports fruits worth US$22-23 million.

Cultivation of most fruits meets the VietGap and GlobalGap standards, including king oranges, Nam Roi pomelos, Hoang Hau dragon fruits, Tan Trieu pomelos, Lo Ren star apples and Hoa Loc mangoes.

The ministry said there were still many shortcomings in fruit cultivation, like small-specialized cultivation areas, quality differences and low international competitiveness.

VietGAP, based on the ASEAN GAP model, is designed to meet specific needs of the Vietnamese fresh fruit and vegetables industry.

VietGAP consists of twelve sections that cover practices in all four components of food safety, environmental management, workers health, safety and welfare and production quality.

Practices in VietGAP aim at preventing and minimizing hazards that
occur during the food production chain including species, soil, fertilizers, chemicals, water, environmental impact, workers and training.

VietGAP helps Vietnamese growers, central markets and retailers to supply domestic and international customers and consumers with credible fresh produce from the country.