The Government has cut the retail prices of fuel by VND1000 a liter for the second time this week with effect from today and hiked import taxes on them.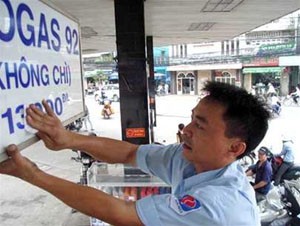 Consumers feel easier with the new petrol price of VND13,000 a liter. (Photo: Tuoitre)
The popular A92 fuel and kerosene will cost VND13,000 and 13,500 a liter, and engine oil VND9,000.
The tariff on gasoline, kerosene, engine oil, and aviation fuel has been increased to 25 percent from 20 percent. On diesel, the tax has gone up to 20 percent from 15 percent, the Minister of Finance announced yesterday.

The new rates will take effect on November 18.

Last Monday fuel prices had been cut by VND1,000 and the tariffs hiked by 5 percent.

This is the sixth time the prices have been slashed since the beginning of October. They have gone down by VND6,000 per liter in all.